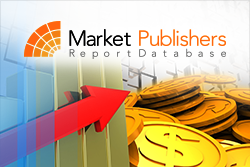 London, UK (PRWEB) May 14, 2015
Market Publishers Ltd and Aniruddha Sowale have recently signed a partnership agreement for quality market research promotion on the Internet. MarketPublishers is now authorised to distribute and sell the research reports prepared by Aniruddha Sowale.
"We are happy that Aniruddha Sowale has joined our team of market research partners. Born in India, this research analyst has been working for market research industry for 8 years. He has a prefessional research team who are dedicated to creating a variety of business reports covering the healthcare, IT enabled services, education and finance, telecom industry sectors. Aniruddha's clients encompass a slew of renowned companies including Microsoft, different pharmaceutical companies, consulting firms like Evaluserve, and Frost & Sullivan, amid others. We are sure that our mutual cooperation will bring our businesses to a higher level as well as benefit our valued clients," commented Natalie Aster, Assistant Manager at Partners Department.
Comprehensive Reports by Aniruddha Sowale Comprise:
Asian Smartphones Market Report. The worldwide smartphones market is expanding every year. In 2014, the sector grew by staggering 25% YoY. The shipments of smartphones in 2014 reached more than 300 million units, which is good news for the new market entrants. Low-cost smartphones, surging demand, booming economy and the rising generation are the main drivers of the Asian smartphones market. Being currently in a transition phase, the region's smartphones market is moving from basic phones to smart phones. There is enormous potential in this marketplace as millions of novel users are yet to adopt smart phones. Companies like Sony, Samsung, Nokia and Lenovo are the key players in Asia's market in tandem with some local companies. The research report is aimed at providing a complete analysis of the smart phones market on a regional level.
Global Smartphones Market Report. The world's smart phone market is set to increase at 11.2% CAGR, reaching a value of USD 698.4 billion by 2020. It is led by the APAC region holding 40.7% market share; Europe comes second with 32.2% market share. Worldwide smart phone shipments are projected to reach around 2.969 billion units by 2020. The market growth is being driven by the increasing use of mobile internet and services in key European and Asian nations like the UK, Germany, China, India, South Korea and Indonesia. Additionally, a decline in smart phone average selling price will likely fuel the sector growth in the offing. However, declining demand for smart phones in matured countries like Japan and the USA is set to somewhat restrain the development of smart phone market through 2020. Amid the dominant market players, Samsung Electronics, Apple Inc., Nokia Oyj, LG Electronics Inc. and Xiaomi Technology Co. Ltd. collectively accounted for over 50% of total market share in 2013. More key information on the market can be found in the study.
More comprehensive reports by the publisher can be found at Aniruddha Sowale page.