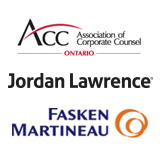 You must be able to "show your work" or the logic behind your retention rules and schedule in order for deletion to be defensible - Robert Fowler, CIPP/US, Jordan Lawrence
St. Louis, MO (PRWEB) May 14, 2015
Jordan Lawrence has partnered with Fasken Martineau to present on defensible deletion at the ACC Ontario Chapter next month.
Companies are buried by gargantuan amounts of records and information and those amounts are growing at uncontrollable rates. Soaring e-discovery costs, legal and compliance risks and the high price tag for IT to store, manage and search through massive amounts of information have propelled records retention from the back burner to a red-hot issue for both legal and IT.
Jordan Lawrence, the leading provider of records management and information governance solutions and long-time Association of Corporate Counsel Alliance Partner, today announced they will be participating in a CPD event, Defensibly Downsizing Your Data: Where to Start with Records Retention and Maintaining Compliance. The lunch program and presentation will be hosted by the ACC Ontario Chapter and will be held at Fasken Martineau's Toronto office on Friday, June 5th.
The panel will include Robert Fowler, CIPP/US, Director of Professional Services at Jordan Lawrence, John Beardwood, Partner at Fasken Martineau and Joshua Death, AVP Legal, Intellectual Property at TD Bank Group. They will share how to evaluate the legal and business issues caused by retaining too much information, best practices for developing a retention policy for all records and information, cleaning up the mess and developing an ongoing strategy for new data, overcoming the cultural challenges and selling sound information governance within your business organization.
For more information or to Register, email Zahra Malik at accontarioadmin(at)gmail(dot)com.
About Jordan Lawrence
For 30 years, Jordan Lawrence has worked with the world's premier companies to develop and implement records management programs that work. Jordan Lawrence provides proven, fast and affordable services that help any company meet current and ever-changing legal and business requirements related to records management and information governance.