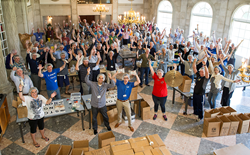 Pittsburgh, PA (PRWEB) May 14, 2015
Stop Hunger Now will celebrate its newest location in Pittsburgh, PA, with an event to showcase the accomplishments of supporters, funders and meal packaging volunteers on on Thursday, May 21, 2015. In January, Stop Hunger Now opened its popular and effective meal packaging program in Pittsburgh to provide local residents a hands-on way to help end world hunger.
"Heinz is proud to partner with Stop Hunger Now to provide millions of nutritious meals to children and families around the world." said Michael Mullen, SVP of Corporate and Government Affairs at Heinz. "As a global food company, combatting hunger and malnutrition worldwide is a natural extension of our brand, and we are thrilled to welcome Stop Hunger Now to Pittsburgh."
Partners, key stakeholders, volunteers and staff will gather for a meal packaging demonstration and other festivities at Christ United Methodist Church, 44 Highland Road, Bethel Park, PA. Guests include Jenece Upton, Manager, Heinz Foundation and Community Relations, and other strategic partners who supported the opening of the new Stop Hunger Now location.
So far this year, Stop Hunger Now volunteers have packaged more than 500,000 meals in Pittsburgh and surrounding communities. With more than 50 events already scheduled, Stop Hunger Now Pittsburgh expects to package more than 1.5 million meals in 2015.
Stop Hunger Now meal packaging events are a volunteer-based program that coordinates the streamlined packaging of highly nutritious dehydrated meals comprised of rice, soy, vegetables, and 23 essential vitamins and minerals.
Around the world, more than 805 million people lack adequate food. Stop Hunger Now operates meal packaging locations in 19 cities throughout the U.S. and international locations in South Africa, Malaysia, Philippines, Italy and India. More than 450,000 volunteers from corporations, churches, schools and civic organizations have packaged Stop Hunger Now meals.
Groups of all sizes and ages can organize a meal packaging event with Stop Hunger Now to assemble meals that are used to support development programs such as school feeding programs, vocational training programs, early childhood development programs, orphanages, and medical clinics. Working with these programs helps enhance lives by giving beneficiaries the opportunity to break the cycle of poverty through education, skills development, and health care while also receiving much needed nutrition.
At the event, Mickey Horner, Stop Hunger Now Director of Expansion and Program Innovation and Pittsburgh Program Manager Andrew Moser will provide a brief hunger awareness presentation and lead meal packaging demonstrations. Interview opportunities include Upton, Barb Dean, a GSK PULSE program executive on loan who spent six months embedded at Stop Hunger Now in 2014, and local community volunteers.
For more information contact Andrew Moser at 716-534-0467 or amoser(at)stophungernow(dot)org
For 17 years, Stop Hunger Now has been creating a movement to end hunger. Nearly 200,000,000 meals have been packaged and distributed along with other aid to 65 countries impacting hundred of thousands of lives. The organization is driven by a mission to end hunger in our lifetime by providing food and life-changing aid to the world's most vulnerable and by creating a global commitment to mobilize the necessary resources.
The Stop Hunger Now meal packaging program was created to give dedicated individuals the opportunity to participate in a hands-on international hunger relief program and to become educated, engaged advocates for the world's poor and hungry. In 2014, Stop Hunger Now and its global affiliates packaged 50.6 million meals.
In its efforts to respond to emergency needs around the world, Stop Hunger Now receives and distributes significant donations of in-kind aid. These donations of large quantities of food, medicines, medical supplies and other such items are of use in fighting hunger and providing relief in a crisis. For more information visit http://www.stophungernow.org.