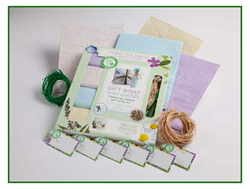 We are honored to be recognized for this prestigious award. To be chosen from the hundreds of thousands of great products at the show is truly humbling.
New CIty, NY (PRWEB) May 19, 2015
Triumph Plant Company came home from the Las Vegas Hardware Show with some hardware of its own - a prestigious Retailers' Choice Award for Flowering Gift Wrap! Products nominated for this award are judged by a distinguished panel of retailers who sell products for a living. This program not only honors manufacturers for their innovation, but it also helps single out new and innovative products to see at the Hardware Show.
Triumph's Flowering Gift Wrap is gift wrapping paper that can be planted after it wraps a present! It is recycled paper that is pre-seeded with fresh wildflowers. The colorful paper can be used as the tissue paper inside a gift bag, or as the wrapping paper itself. This paper can be cut to fit any size garden area or container. Once planted following the easy instructions, the paper will organically break down and the seeds will germinate into a beautiful flower bed. This gift wrap is made of 100% recycled material. The following are just some of the wildflower seeds embedded in the paper: Corn Poppy, Red Coreopsis, Plain Coreopsis, Black-eyed Susan, and Baby Snapdragon. Great for baby showers, weddings, favors, bridal showers, and any other gift giving occasion. Complete details as well as the seed germination percentages can be found at http://www.triumphplant.com.
Visitors to the International Floriculture Show in Chicago, IL, can get more information about this product at Booth #341.
Triumph Plant Company has been a supplier of unique gardening gifts and decorations for 40 years. The complete line of gardening items includes seed mats, children' gardening kits, and flowering hanging baskets. Triumph is also licensed by Crayola. Triumph Plant Company believes that every level of gardener deserves an opportunity to be successful and obtain a "green thumb."