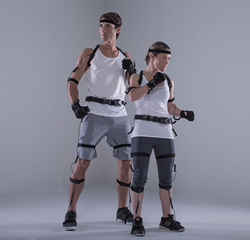 The possibilities with Perception Neuron are truly endless.
San Mateo, California (PRWEB) May 14, 2015
Noitom, the company that has pioneered affordable motion capture technology, will be bringing its Perception Neuron system to the 10th annual Maker Faire festival on May 16 & 17 in San Mateo, CA. Maker Faire is an all-ages gathering of people who create or have an interest in original new inventions. The festival attracts tech enthusiasts, crafters, hobbyists, engineers, science clubs, authors, artists and students among others and has a history of generating some of the craziest ideas and wildest creations, in addition to some of the most watched Youtube videos.
Virtual reality fans around the globe got to learn about Perception Neuron's adaptive motion capture technology after their extraordinary campaign on Kickstarter last year that saw the product raise over half a million dollars and introduced an affordable and accessible option for motion capture that can be used for a variety of applications from visual effects, to sports, medicine and gaming.
Perception Neuron will be attending as a special guest of VR Camp at Burning Man. They will be interacting with people throughout the festival as they present Perception Neuron as a new tool for inventors to use in their various projects. The versatility of the easy-to-use technology makes it appealing to technical or artistic visionaries who want to create or experiment.
"The possibilities with Perception Neuron are truly endless," says Roch Nakajima, Americas/Europe Marketing Director at Noitom. "Maker Faire offers an incredible opportunity to present a unique and affordable product that will allow people to translate human body movements into those of machines or probably more unorthodox off-the-wall projects. We are very excited to be part of this year's event."
Perception Neuron will be at the VR Camp for Burning Man at the Maker Faire VR Booth in the Fiesta Hall, Zone Three from 10am-8pm on Saturday, May 16th and from 10am-noon on Sunday, May 17th at the San Mateo Event Center. For tickets and information please visit http://www.makerfaire.com.
Founded in 2011, Noitom Ltd. works with a team of dedicated engineers who develop world-class motion capture technology for consumer and industrial markets through the integration of MEMS sensors, pattern recognition, human kinetics and wireless transmission. Noitom is an international leader in innovative technology for use in animation, film, medical applications, robotics and gaming. Noitom is headquartered in Beijing with affiliate offices in Shenzhen. For further information about Noitom and its services, please visit, http://www.noitom.com. For general inquiries, please email, info(at)noitom(dot)com.