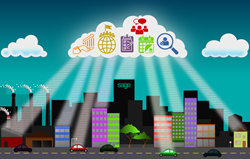 Large Sage 50 customers are ideal candidates for a post-ERP solution
Buford, GA (PRWEB) May 14, 2015
Existing Sage 50 customers that see the benefits of Sage Life do not need to wait. Suntico, the engaging new Facebook-style account management solution offers Sage 50 users a powerful alternative now.
Yesterday at the London-based accounting software trade show Accountex 2015, Sage Group announced a new cloud product called Sage Life. The product, which is not yet commercially available, is a result of a new global partnership between Sage and Salesforce. Described by Sage Group CEO Stephen Kelly as possibly "the end of ERP", Sage Life will be built on the Salesforce1 platform. "With social networking at its core, Sage Life allows seamless interconnections between colleagues, customers, partners, suppliers, and other stakeholders," says Stephen Kelly.
"Sage Life includes a new accounting engine and existing Sage customers that want to use Sage Life will need to move away from their current system." says Hugh Johnson, SVP Business Development at Suntico. "The announcement of Sage Life is a validation of the Suntico concept. Large Sage 50 customers are ideal candidates for a post-ERP solution and Suntico delivers this in as little as 15 minutes without the pain of migration."
About Suntico:
Suntico is an online account management system for companies that value face to face client contact. The system is suitable for internal company staff as well as independent sales reps. It is incredibly easy to learn with a modern Facebook-like interface. Suntico links tightly with popular accounting software and is currently available for Sage 50. Accounting US (formerly Peachtree), Sage 50 Accounting Canada (formerly Simply Accounting), Sage 50 Accounts in the UK and Ireland, and Sage One (Ireland and UK).