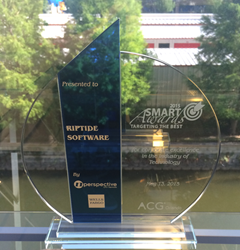 We are honored to be recognized with such a prestigious award and excited to be a catalyst in continuing the growth of technology in Central Florida ~ Phillip Loeffel
ORLANDO, FL (PRWEB) May 14, 2015
Riptide Software was selected as the winner in the technology category of ACG's 2015 Successful Management of Assets, Revenues and Teams (SMART) Award. Riptide, one of twenty six finalists across 7 categories, continues to contribute to Central Florida's technology sector by creating jobs and technical advancements. The success of Riptide's E-Learning platform, along with other cloud and amazon web services software projects, has led to new opportunities for some of Central Florida's brightest software developers.
Phillip Loeffel, CEO of Riptide Software stated, "We are honored to be recognized with such a prestigious award and excited to be a catalyst in continuing the growth of technology in Central Florida".
ACG Orlando recognizes companies based on the value they bring to Central Florida through outstanding accomplishments in corporate culture, growth, business creativity and economic contribution. The SMART Awards demonstrates ACG Orlando's continuing commitment to facilitate relationships among middle-market companies, capital sources and professionals active in corporate finance.
Riptide Software is grateful for this recognition as we continue to develop quality software products in an employee owned culture.
About Riptide Software
Founded in 1995, Riptide Software Inc. is an employee owned company that develops custom software solutions for the department of defense and multiple fortune 1000 customers. Riptide Software has a passion for supporting military simulation & training (MS&T) projects for the modern warfighter and providing cloud and mobile technology integrations for our worldwide customer base. Riptide's innovative e-learning platform delivers training content on any device in any language. Riptide provides all of their customers with unwavering support, intricate attention to detail, and first class solutions by remaining on the cutting edge of emerging technologies. Riptide Software's broad range of capabilities allows us to customize services that exceed the needs of our customers.
About ACG Orlando
The Orlando Chapter of the Association for Corporate Growth (ACG Orlando) was formed in 2004, to connect growing businesses in Central Florida with local, national and global capital markets, and to facilitate relationship building between these companies, capital sources and professionals active in corporate finance.