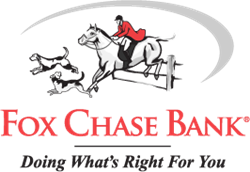 It was my honor to moderate this dynamic panel of industry experts
Hatboro, PA (PRWEB) May 15, 2015
Tom Petro, President & CEO of Fox Chase Bank, moderated a dynamic panel of investors Monday night at a Entrepreneurs Forum of Greater Philadelphia's Signature Event.
The event titled "Funding Alternatives" was held at St Joseph's University's Mandeville Hall and attracted over 125 enterprising entrepreneurs. The team of panelist included: Angel Investor - John Moore, Robin Hood Ventures & Investors Circle; Early Stage Venture Capital Investor- Nate Lentz, Partner, Osage Capital Partners; Growth Stage Venture Capital Investor - Michael Kopelman, Partner, Edison Partners; Private Equity Investor -Scott Evans, Managing Partner, Guardian Capital Partners; Mezzanine Capital Investor -Steve Hobman, Partner, NewSpring Capital& Senior Lender Mike Fitzgerald, Chief Lending Officer, Fox Chase Bank
Also on the panel was Mike Fitzgerald, Chief Lending Officer of Fox Chase Bank. During the past 5 years, the Bank has closed over $1 billion in commercial and real estate loan transactions for clients located in its market area. Mike is active in the community having served on various local community boards. Most recently, he was asked to join the Executive Board of The Miracle League of Bucks County, which is a softball/baseball league for special needs children and adults.
During the powerful discussion of funding alternatives, the esteemed panelists addressed topics such as: What are the sources of capital available to the enterprising entrepreneur? What is the range of options? Who are the players and where does each fit in the growth stages of an emerging business? How do investors that represent each capital source evaluate emerging businesses for potential investment? What constitutes a good and bad match between investor and entrepreneur? How is investor capital viewed differently than bank loans?
The event provided enterprising entrepreneurs with the opportunity to hear expert advice and to network with other entrepreneurs in the Greater Philadelphia Area
Tom Petro stated that "It was my honor to moderate this dynamic panel of industry experts and help provide insight into funding alternatives for the many entrepreneurs in the Greater Philadelphia area."
The Entrepreneurs Forum is both old and new. For 25 years, the Forum has served the needs of growing firms in the Greater Philadelphia region. Today, the Forum continues to be a vibrant part of the entrepreneur scene. Many of the Forum's "alums" are among the leading firms contributing to growth in the Philadelphia region.
The Forum is a unique organization in the Philadelphia region. It's supported by dedicated local businesses, entrepreneurs and educational institutions that support and mentor entrepreneurs. The Forum's goal is to create networking opportunities for mutual growth and to provide entrepreneurs with insights on what they need to do to grow and prosper.
About Fox Chase Bank
Fox Chase Bank serves growing middle market businesses, commercial real estate investors and depositors in the attractive markets that span Baltimore to New York City delivering on the promise of doing what's right for people. The Bank, established in 1867, is headquartered in Hatboro, Pennsylvania. It provides a comprehensive array of financial products and services through a comprehensive suite of cash management services and ten branch offices in Bucks, Montgomery, Chester and Philadelphia Counties in Pennsylvania and Atlantic and Cape May Counties in New Jersey.
About the EFGP
The Entrepreneurs' Forum of Greater Philadelphia supports the creation and development of high growth firms by delivering essential resources, education and networking opportunities to help entrepreneurs achieve their dreams. The Forum serves as a clearing house and focal point, offering entrepreneurs, inventors, investors and professional advisors a forum to exchange ideas, advice and investment opportunities. The EFGP has been recognized by the Philadelphia Business Journal as one of the top 20 Business Network Associates in the Greater Philadelphia Area for 2014.