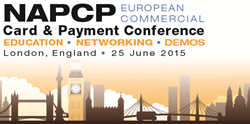 Individuals who have a major influence over their organisations' payment strategies and decision-making processes won't want to miss this event.
Minnetonka, MN (PRWEB UK) 18 May 2015
Back for its third year, the NAPCP European Commercial Card and Payment Conference is quickly becoming a can't-miss event for payment industry professionals in Europe and beyond.
This year's conference, coming on 25 June at the Bloomsbury Hotel in London, will showcase organisations with highly effective B2B payment strategies that leverage a broad range of Commercial Card and Payment solutions. Practitioners will share their secrets to successful payments navigation. Hear how these organisations have leveraged little- to no-cost solutions to streamline the payments process, gain increased visibility and control over spend and optimise working capital.
This unique conference—which is being supported by Lead Sponsor Visa Europe—is focused on end-user success in the corporate and public sectors. The majority of our sessions are presented by end-users: programme managers, administrators and representatives from procurement and payments.
Conference attendees can expect:

educational sessions led by Lead Sponsor Visa Europe, Intel Corporation, Meritor Inc., United Technologies Corporation, KAE Consulting, Autodesk Inc. and more that examine the business case for application of various Commercial Card and Payment solutions
one-on-one and small-group discussions through various networking opportunities
demonstration sessions that will showcase products, technology and services that support payments optimisation and efficiencies worldwide
Individuals who—either directly or indirectly—have a major influence over their organisations' payment strategies and decision-making processes won't want to miss this event. Attendees of last year's conference raved about the sessions, saying speakers were:
"…very interesting and engaging…"
"…thought provoking…"
"…clear and concise…"
"…instructive…"
Regular Registration for this exciting event is now underway. Rates will increase on 26 May, so be sure to register today! We hope to see you in London!
About the NAPCP: The NAPCP is a membership-based professional association committed to advancing Commercial Card and Payment professionals and industry practices worldwide. The NAPCP is a respected voice in the industry, serving as an impartial resource for members at all experience levels in the public and private sectors. The NAPCP provides unmatched opportunities for continuing education and peer networking through its conferences, Regional Forums, webinars, research, virtual demonstrations, Certified Purchasing Card Professional (CPCP) credential, newsletters and regular communication. For more information, visit http://www.napcp.org.