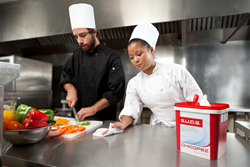 With innovative products engineered for cleaning and sanitizing, we have the right wipes and towels to help operator's face their daily cleaning challenges
Charlotte, N.C. (PRWEB) May 15, 2015
PGI has announced today that its Chicopee brand, founder of the innovative foodservice towel Chix®SC, will feature its new line of product solutions that serve the foodservice, restaurant and lodging industries at the National Restaurant Association Show (NRA Show) in Chicago from May 16 – 19, 2015. When visiting the Chicopee booth (#10403), attendees will experience demonstration stations in sanitizing compatibility for a facility from the front-of-house, back-of-house, floor and restroom.
Chicopee product managers will be on-hand to lead product demonstrations and discuss trends and issues facing the foodservice, restaurant and lodging industries. Product highlights include the introduction of S.U.D.S™ Towels, Microfiber Light for Surface Care, and Floor Care Dusting. And in appreciation for attending the demonstrations, attendees will receive a "thank you gift" which includes an automatic entry for a GoPro® (a $400 value)! Drawings for the GoPro will be held on May 16 and May 17 at 3:30 p.m.
The annual National Restaurant Show is the largest single gathering of restaurant, foodservice and lodging professionals. Held at McCormick Place in Chicago, the event attracts over 44,000 attendees and visitors from all 50 states and 100+ countries, and showcases thousands of services, innovative ideas and growth opportunities.
"With innovative products engineered for cleaning and sanitizing, we have the right wipes and towels to help operator's face their daily cleaning challenges and what better venue to highlight new products than at the NRA tradeshow," said Dawn Huston, Director of Marketing for Chicopee. "It's the perfect opportunity to gather customer feedback and a valuable way to demonstrate how our products can lead to a healthy environment that ultimately saves money."
At this year's show, Chicopee will feature S.U.D.S. Towels for sanitizing and cleaning. This Single Use Dispensing System supports front-of-house, back-of-house, and restroom protocols with color coded lids for zone cleaning. It not only yields superior liquid absorption and debris pick-up, but offers superior sanitation with lower cost-per-use up to fifty percent.
Chicopee offers NRA Show attendees an opportunity to learn more about all of its entire product solutions for foodservice, restaurant and lodging professionals at its booth (#10403). For more information visit the Chicopee website at http://www.chicopee-americas.com.
About Chicopee:
Chicopee, a division of PGI Specialty Materials, is the leading brand of specialty cleaning wipes for the professional market. With over 40 years' experience developing and delivering solutions for wiping in foodservice, building maintenance, healthcare, automotive, industrial, commercial printing, general purpose, as well as consumer home and personal care.
About PGI Specialty Materials, Inc.
PGI Specialty Materials, Inc. is one of the world's leading developer, producer and marketer of specialty materials used in infection prevention, personal care and high-performance solutions. With 23 locations in 14 countries, an employee base of approximately 4,750 employees and the broadest range of process technologies in the nonwoven's industry, PGI is a global supplier to leading consumer and industrial product manufacturers. PGI's manufacturing facilities are strategically located near many key customers. We work closely with them to provide engineered solutions to meet increasing demand for more sophisticated products.
Click here to learn more about PGI's global commitment to providing superior specialty materials that enable customers to create a safer, cleaner, healthier world. http://www.PGIspecialtymaterials.com