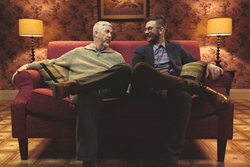 Our campaign makes a deeply emotional statement about kids and their fathers and we wanted to use one of the best filmmakers in the world to bring it to life.
Omaha, Neb. (PRWEB) May 18, 2015
Tens of millions of Americans will honor their dads this Father's Day on June 21. For the occasion, Omaha Steaks, the nation's leading purveyor of premium grain-fed beef and gourmet foods, is launching a new campaign to celebrate dads and uproot the way we think about Father's Day itself. The TV-led campaign, shot and directed by Academy Award winning documentary film-maker Errol Morris (The Thin Blue Line, The Fog of War) features vignettes of real fathers and their children describing their lives together.
The genesis of the campaign and desire of Omaha Steaks to embrace dads on the occasion stems from research that turns Father's Day tradition on its ear. "According to a national survey, clothing items like neckties are far and away the most popular Father's Day gifts, yet over 80 percent of all dads in the U.S. say they would rather receive a T-Bone than a tie," said Todd Simon, Omaha Steaks Senior Vice President. "On top of that, our campaign makes a deeply emotional statement about kids and their fathers and we wanted to use one of the best filmmakers in the world to bring it to life."
To tap that emotion, the campaign simply lets fathers and their sons and daughters do the talking seated side by side on a cozy couch. "It's a simple approach, but it yields real emotional fireworks," Morris said. Each TV spot featuring dads and their kids has a documentary-like quality.
The new Father's Day campaign is the work of San Francisco-based ad agency barrettSF and will begin airing nationally on May 18. Simon said that while many companies market around Father's Day, few, if any, are in a better position to resonate among men and one of their true passions – steak. A national survey found that 57 percent of men said they grill at home on Father's Day and 80 percent would like to receive steak as a gift. "It's a real upside opportunity for us: Millions of men want steaks as gifts and yet only about 9 percent are currently getting them," Simon said.
To help Father's Day gift givers in their quest, Omaha Steaks is offering a highly tempting package called the Thanks Dad Box, which includes two famous 18 oz. Omaha Steaks T-Bones, four 4 oz. Omaha Steaks Burgers, four 3 oz. Gourmet Jumbo Franks, one 16 oz. package of Steakhouse Fries, four Caramel Apple Tartlets, and a packet of Omaha Steaks seasoning, all for $59.99. The package is available for purchase at http://GiveOmahaSteaks.com.
The new integrated campaign also includes digital and social media components. In addition, Omaha Steaks has launched Remarkable Dads, a new online community designed to celebrate dads for their contributions to their families and society. The site which features user-generated and guest contributor content, contests and other features serves as a hub for dads and the people who love them.
And when it comes to eating steaks on Father's Day, how do steak-loving men like their steaks prepared? Forty-three percent prefer their steaks medium rare. Forty-seven percent like sautéed mushrooms on top. "No one understands men's love for steaks like we do," Simon said.