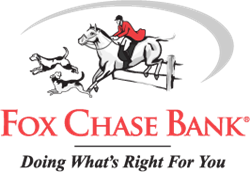 Hatboro, PA (PRWEB) May 18, 2015
EY announced that Tom Petro, President & CEO of Fox Chase Bank, is a finalist for the EY Entrepreneur Of The Year® 2015 Award in Greater Philadelphia. The awards program recognizes entrepreneurs who demonstrate excellence and extraordinary success in such areas as innovation, financial performance and personal commitment to their businesses and communities.
Tom was selected as a finalist by a panel of independent judges. Award winners will be announced at a special gala event on June 11 at the Sheraton Philadelphia Downtown Hotel.
"It's an honor to be a finalist for the EY Entrepreneur Of The Year 2015 Award in Greater Philadelphia along with the other successful and innovative finalists and represent the Fox Chase Team. Together we have written a great story of transformation. Even more, the best is yet to come as we continue to build on our success together" states Tom.
EY Entrepreneur Of The Year® is the world's most prestigious business award for entrepreneurs. The unique award makes a difference through the way it encourages entrepreneurial activity among those with potential and recognizes the contribution of people who inspire others with their vision, leadership and achievement. Now in its 29th year, the program has expanded to recognize business leaders in more than 145 cities in more than 60 countries throughout the world.
Tom is a 2014 and 2015 Smart CEO Future 50 Award Winner and Fox Chase Bank is recognized as one of the 2015 Top Places To Work In Philadelphia.
About Fox Chase Bank
Fox Chase Bank serves growing middle market businesses, commercial real estate investors and depositors in the attractive markets that span Baltimore to New York City delivering on the promise of doing what's right for people. The Bank, established in 1867, is headquartered in Hatboro, Pennsylvania. It provides a comprehensive array of financial products and services through a comprehensive suite of cash management services and ten branch offices in Bucks, Montgomery, Chester and Philadelphia Counties in Pennsylvania and Atlantic and Cape May Counties in New Jersey.