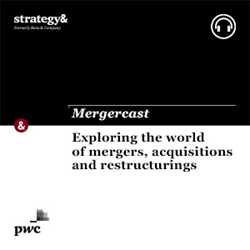 The sophistication of deals and dealmakers is on the rise.
New York, NY (PRWEB) May 20, 2015
M&A is becoming an increasingly sophisticated endeavor.
While dealmakers have typically paid attention to issues like financial diligence risk, valuation and some level of strategy in mergers and acquisitions, a lot more focus today is being placed on real capabilities and the development of robust strategies, Gerald Adolph, Senior Partner at Strategy& and co-lead of its global deals practice, said on the most recent episode of Mergercast by Strategy&.
"The sophistication of deals and dealmakers is on the rise," he said.
Dealmakers are also becoming better at executing their post-merger integration, developing playbooks and processes that can be repeated, said Gregg Nahass, a Deals partner at PwC and the U.S. and global leader of its M&A integration practice.
Adolph and Nahass joined Strategy& partners Tom Flaherty and J. Neely for Episode 50 of Mergercast by Strategy&, celebrating nearly a decade since the podcast's 2006 launch. They contrasted the deals environment today with the M&A universe back when the show's first episode was recorded.
The panelists noted that larger growth-oriented transactions, as opposed to tuck-in or consolidation-type deals, are on the rise, driven in part by market factors and in part by dealmakers' higher level of confidence stemming from experience.
"There's a premium to be had for doing them right and really blending capabilities in the right way," Neely said.
Speed remains key in getting deals done and, if anything, has grown in importance given the rapidly increasing pace of change through technology, Flaherty said. "Time is the silent killer of deals. We either take too long to move in the market, too long to get regulatory approvals, or too long to get to close and steady state and actually capture the value that was originally identified," he continued.
Of course, several factors have remained little changed over the past decade. The No. 1 challenge to merger integration over that time has been IT systems, Nahass said. Revenue synergies are still more difficult than cost synergies to capture, and people and culture remain critical challenges.
"So, no matter how good a company can become at doing deals, each deal represents a different set of circumstances and some common challenges are faced across them all," he added.
About Mergercast by Strategy&
Mergercast by Strategy& is a podcast series exploring the world of mergers, acquisitions and restructurings. Episode No. 50, "A Decade of M&A," has a run time of 23 minutes, 38 seconds. Listeners can play the podcast on its homepage (http://www.strategyand.pwc.com/mergercast) or subscribe via RSS feed, e-mail or the iTunes store.
About Strategy&
Strategy& is a global team of practical strategists committed to helping you seize essential advantage. We do that by working alongside you to solve your toughest problems and helping you capture your greatest opportunities. We bring 100 years of strategy consulting experience and the unrivaled industry and functional capabilities of the PwC network to the task. We are a member of the PwC network of firms in 157 countries with more than 195,000 people committed to delivering quality in assurance, tax, and advisory services.