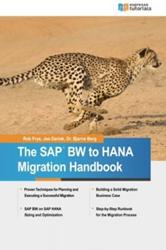 The SAP BW to HANA Migration Handbook provides a step-by-step guide for moving an existing SAP BW system on any database to SAP HANA.
Gleichen, Germany (PRWEB) May 19, 2015
SAP HANA has revolutionized the way companies store data and architect reporting solutions. The SAP BW to HANA Migration Handbook provides a step-by-step guide for moving an existing SAP BW system on any database to SAP HANA. Identify the differences between the database migration option (DMO) process and other options. Get sample staffing plans, tools for hardware sizing and planning, and budgeting tips for planning your migration project. Walk through the process for cleaning your SAP Business Warehouse (BW) system prior to migration and find out how doing so can reduce your SAP BW on HANA implementation costs.
Walk through DMO process prerequisites and examine the SAP BW on HANA Migration Cockpit in detail. Get step-by-step instructions for executing a SAP BW on HANA migration using DMO and get tips based on lessons learned from the world's largest DMO migration project. Walk away with best practices for monitoring the health of your SAP HANA implementation. Using practical examples, tips, and screenshots, the authors provide expert strategies to help your company's migration project succeed.
Authors Rob Frye, Joe Darlak, and Dr. Bjarne Berg are leading SAP BI and SAP HANA experts. Rob Frye is the manager of ComeritLabs and has delivered training in SAP HANA in numerous countries. Joe Darlak, Senior Director of SAP Analytics at COMERIT, Inc., has been successfully implementing SAP BW since 1998 and is an expert on SAP BW performance tuning topics. Dr. Bjarne Berg is the senior director of BI at COMERIT, Inc., and one of the most respected and dedicated thought leaders in the BI market.
"Espresso Tutorials is pleased to publish the SAP BW to HANA Migration Handbook and add it to our portfolio of SAP books. Global companies can rely on the handbook to successfully migrate their SAP BW systems to SAP HANA."
Jörg Siebert, Managing Director, Espresso Tutorials
Learn more about Espresso Tutorials at http://www.espresso-tutorials.com and join your peers in the thriving FI CO Forum community to discuss, learn, and share SAP tips, strategies, and best practices at http://www.fico-forum.com/forum2/.
About Espresso Tutorials
Espresso Tutorials is a leading provider of SAP print and e-books. Like a cup of espresso coffee, Espresso Tutorials e-books are condensed and effective. We know that your time is valuable and we deliver information in a succinct and straightforward manner, it only takes our readers a short amount of time to consume SAP concepts. Espresso Tutorials provides up-to-date information for today's reader and today's SAP book market. Our e-books are well-recognized in the industry for leveraging tutorial-style instruction and videos to show you step by step how to successfully work with SAP.