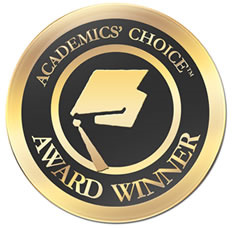 When I speak with store buyers and parents, this award is considered one of the most important factors in deciding what to buy.
Aptos, CA (PRWEB) May 18, 2015
Academics' Choice today announced the winners of the Spring 2015 Academics' Choice Awards, a prestigious seal of educational quality, reserved only for the best mind-building media and toys. The independent Academics' Choice Awards program and its seals of excellence are recognized worldwide by consumers and educational institutions as indicators of genuinely effective learning tools that stimulate the mind, and provide potential for students to fully develop higher order thinking skills for success in school and life. A total of 51 products earned the award this fall. The full list of winners is posted online at http://www.academicschoice.com/2015.
The Academics' Choice Advisory Board consists of leading thinkers and graduates from Princeton, Harvard, George Washington University, and other reputable educational institutions. Product-appropriate volunteer reviewers, combined with the brainpower of the Board, determine the coveted winners. Entries are judged by category (i.e. mobile app, toy, book, website, magazine, etc.), subject area, and grade level, and evaluated based on standardized criteria rooted in constructivist learning theory.
"The 2015 Brain Toy Award is such helpful validation to encourage families to play together to further their math education with Brainetics.​" - Julie Alexander, Brainetics
"Our overarching mission has been to make The Centsables initiative an effective and meaningful teaching tool. The Academics' Choice Award validates our belief that young minds are quite capable of absorbing even complicated financial concepts. We are proud to be recognized for our role in that process." - Mark DiPippa, President, The Centsables
"I am thrilled that our games won an Academics' Choice Brain Toy Award this year. When I speak with store buyers and parents, this award is considered one of the most important factors in deciding what to buy. Games that are fun and can also aid in learning are what we strive for in every product we make, and it's an honor to have our work validated by this toy and game review organization!" - Julien Sharp, Funnybone Toys
"We are thrilled that our Early Years Set has been recognized by Academics' Choice", said Brooks Addington, President of Realtimes Products LLC. "This prestigious acknowledgement is testament by industry experts, parents, and children alike that our unique line of numeracy related tableware provides a fun, social, and educational experience for families."
The products that are not chosen by the Academics' Choice Awards team (and many that are chosen) are donated to a variety of worthy charities.
About Academics' Choice:
Academics' Choice helps consumers find exceptional brain-boosting material. Academics' Choice is the only international awards program designed to bring increased recognition to publishers, manufacturers, independent authors and developers that aim to stimulate cognitive development. A volunteer panel of product-appropriate judges, including parents, educators, scientists, artists, doctors, nurses, librarians, students and children, evaluate submissions based on educational benefits such as higher-order thinking skills, character building, creative play, durability and originality. Only the genuine "mind-builders" are recognized with the coveted Academics' Choice Awards.
###
Stephanie Howard
Academics' Choice Awards
7960 B Soquel Dr #413, Aptos, CA 95003
AcademicsChoice.com