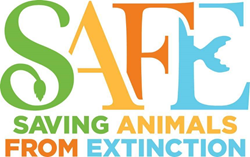 Silver Spring, MD (PRWEB) May 15, 2015
The 229 zoos and aquariums accredited by the Association of Zoos and Aquariums (AZA) are launching a bold effort to save species from extinction and restore their populations in the wild. SAFE: Saving Animals From Extinction will deepen the already substantial science and conservation work at AZA-accredited zoos and aquariums by engaging the 180 million annual aquarium and zoo visitors and partners across the world.
On May 15, the tenth anniversary of Endangered Species Day, endangered animals at many AZA-accredited zoos and aquariums will "vanish" – their exhibits closed or curtained off or otherwise marked to illustrate what is at stake if no action is taken. At each of these exhibits, visitors will learn how they can support conservation and ensure that the future of these important species is protected.
"At its core, SAFE represents a new and unique opportunity to combat the extinction crisis and save vital species," said Jim Maddy, President and CEO of AZA. "With thousands of scientists and conservationists--more than any other single conservation organization--750,000 animals in their care, and more access to the public to the tune of 180 million visitors annually, AZA-accredited zoos and aquariums are poised to make a tremendous difference."
The leadership of SAFE has spent the past two years reviewing the science to identify more than 100 species facing serious threats and how zoos and aquariums can use their expertise and resources to improve the conservation status of these species. In 2015, SAFE will focus on the following 10, and add at least 10 each year:

African Penguin;
Asian Elephants;
Black rhinoceros;
Cheetah;
Gorillas;
Sea Turtles;
Sharks and rays;
Vaquita;
Western pond turtle; and
Whooping Crane
Leaders in species survival for more than 100 years, AZA-accredited zoos and aquariums are already working on restoring more than 30 species to healthy wild populations, including the American bison, the California condor, the black footed ferret and a number of aquatic species.
"For years, we've worked closely with AZA-accredited zoos and aquariums, but SAFE is really a game changer for us," said Dr. Stephen van der Spuy, Executive Director at SANCCOB, the non-profit leading the effort to protect African penguins and other sea birds in South Africa. "By strategically focusing the work of AZA members, by bringing new resources, and by engaging millions of zoo and aquarium visitors, we're confident that SAFE can make a real impact."
SAFE launched with a $1 million challenge grant from noted conservationists Mark and Kimbra Walter. The gift has been matched and continues to generate interest and investment.
SAFE has also drawn significant corporate support. ALEX AND ANI, the Rhode Island based eco-conscious lifestyle brand, created a penguin charm as part of their award-winning CHARITY BY DESIGN® program, and it has already become a top seller, generating funds that support conservation work at AZA-accredited zoos and aquariums. In the spirit of giving back, 17-year-old entrepreneur Madison Nicole Robinson, creator of the popular children's line of shoes FishFlops®, is creating a special line of flip flops and slippers to benefit SAFE, with a portion of her sales going directly to SAFE conservation projects. As an AZA partner, Frito-Lay North America is rallying families' support for SAFE with a commitment to match every dollar donated to the cause through http://www.FritoLayZooFun.com, up to a maximum of $100,000, through June 15, 2015. Frito-Lay will also donate $1 for each social share, per person, per day, of an endangered animal fact made through the site to encourage families to spread awareness about the important cause. Donations for social shares will also count towards Frito-Lay's maximum $100,000 donation.
To learn more about AZA and SAFE visit http://www.AZAsavingspecies.org.
###