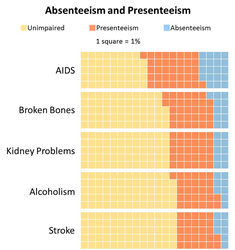 The survey's results show the importance of developing treatments—especially for chronic diseases—that allow people to live their lives with as little impairment as possible.
New York, NY (PRWEB) May 19, 2015
Work productivity loss is highest in U.S. workers who have been diagnosed with AIDS or who have broken bones, according to new findings from Kantar Health's National Health and Wellness Survey (NHWS). The research will be presented today at the ISPOR (International Society for Pharmacoeconomics and Outcomes Research) 20th Annual Meeting in Philadelphia.
"It's important to include measures of work productivity loss when assessing the value of healthcare interventions," said Edward Witt, manager, health outcomes research, Kantar Health. "The effect one's health problems can have on the number of missed workdays and reduced productivity while at work can lead to substantial societal costs."
Respondents to the NHWS were asked the percentage of work time they had missed in the past seven days due to their health problems (absenteeism) and the percentage of impairment experienced in the past seven days at work due to their health problems (presenteeism). The research examined these work impairment numbers across 19 of the most highly impairing conditions according to the Centers for Disease Control and Prevention (CDC). Although average overall work productivity loss for the employed portion of the NHWS sample was 15 percent, it was much higher among people who had AIDS (51 percent) or had a broken bone (42 percent). Other conditions that caused high levels of work productivity loss were kidney problems (including chronic kidney disease and moderate or severe renal disease) at 40 percent and alcoholism at 36 percent impairment.
"The survey's results show the importance of developing treatments—especially for chronic diseases—that allow people to live their lives with as little impairment as possible," Witt said. "In addition, these results can serve as a useful benchmark for subsequent studies of work productivity loss, allowing researchers to place their estimates of impairment in the context of impairment for other conditions."
About the National Health and Wellness Survey (NHWS)
The study's results were drawn from the 2013 U.S. NHWS, a nationally representative, self-administered survey conducted annually. Respondents were provided with a list of conditions and asked which they had experienced and been diagnosed with. Conditions that represent 19 of the most disabling conditions, according to the CDC, were included. Topics covered include the health status, attitudes, behaviors and outcomes among adults 18 or older.
Kantar Health conducts the NHWS in the U.S., Europe, Asia and Latin America. The survey is the largest self-reported dataset in the healthcare industry.
About Kantar Health
Kantar Health is a leading global healthcare consulting firm and trusted advisor to many of the world's leading pharmaceutical, biotech, and medical device and diagnostic companies. It combines evidence-based research capabilities with deep scientific, therapeutic and clinical knowledge, commercial development know-how, and brand and marketing expertise to help clients evaluate opportunities, launch products and maintain brand and market leadership.
Kantar Health deeply understands the influence of patients, payers and physicians, especially as they relate to the performance and payment of medicines and the delivery of healthcare services. Its 600+ healthcare industry specialists work across the product lifecycle, from preclinical development to launch, acting as catalysts to successful decision-making in life sciences and helping clients prioritize their product development and portfolio activities, differentiate their brands and drive product success post-launch. Kantar Health is part of Kantar, the data investment management division of WPP. For more information, please visit http://www.kantarhealth.com.