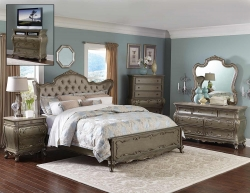 This is one of the best new introduction from Homelegance that we've seen for years - there are definitely few instant best sellers among these new intros
East Brunswick, NJ (PRWEB) May 15, 2015
Homelement.com introduces hundreds of new collections from Homelegance Furniture from their new 2015 catalog. The new introductions include everything from bedroom, dining, living room to entertainment and accent furniture pieces.
The new collections cover a large variety of styles ranging from traditional to modern in various sizes and price points. Below are some of our staff's favorite from these brand new collections.
First on the list is the Homelegance Florentina collection. This collection features elaborate design with a distinct modern touch. There are many details for this collection including the unique silver finish with gold undertone, the faux silk fabric on the headboard, and the elegant design with the acanthus leaf scrolling details. This collection is available as both bedroom and dining set.
Homelegance Millwood collection is another staff's favorite. This collection features rustic minimalist design that serves multiple functions. You can use the bookcase as an actual bookcase or a side pier to your entertainment center. You can also use the writing desk as an actual desk or as a TV stand. The possibilities are endless with this one.
The other favorite is the Homelegance Clementine collection. This collection is available as both adult and children set. It features off white color with classic design with matching bunk beds and trundle.
"This is one of the best new introduction from Homelegance that we've seen for years - there are definitely few instant best sellers among these new intros"
To view the complete Homelegance new 2015 furniture, visit the following page: http://www.homelement.com/Homelegance-Furniture-m-6.html
About Homelement.com
Homelement.com is a leading retail supplier of stylish and elegant home furnishings with more than a dozen years of industry experience. Homelement offers the complete selection of Homelegance furniture at great prices including Homelegance dining furniture, bedroom furniture, and much more.