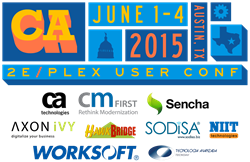 "CM First welcomes customers from around the world to Austin," said John Rhodes, CTO. "This event offers great training, content and a chance to connect with top developers and successful customers."
Austin, TX (PRWEB) May 18, 2015
Keynote presenters have been added to the 7th CA 2E/Plex Worldwide Developer Conference being held this year in Austin, TX, May 31st through June 2, 2015. Mike Amundsen, Director of API Architecture, API Academy and Principal API Architect for CA Technologies, presents "Beyond Source Code," speaking to attendees about DevOps and Microservices as transformational elements for developers. Simon Cockayne, CA Plex Product Owner and Vaughn Marshall, will present a combined session on how two new AppDev products, CA Application Lifecycle Conductor and CA App Services Orchestrator can help with CA 2E and CA Plex development efforts. Gautam Agrawal, Director of Product Management for Sencha will explain the value of HTML5 in "HTML5, The Future for App Development."
The speakers hope to have both products available in the Hackathon later in the week. CA Technologies will also keynote a session on "CA App Dev Strategy," highlighting the way software can aid in collaboration across development and operations. Better techniques lead to more rapid delivery of high quality applications and facilitate development of web and mobile applications. http://plex2e.com/conference/sessions/sessions-2015/
CM First Americas is proud to offer training workshops and technical sessions at the conference, which will include customer success stories as part of the training. Attendees will also have a chance to explore CM First's neck of the woods, Austin, a vibrant community of innovators and technologists. A special Tuesday evening event sponsored by CM First, 'Texas Evening on the Water," will highlight Texas refreshments and food.
"CM First welcomes customers from around the world to Austin," said John Rhodes, CTO. "This event offers great training, content and a chance to connect with top developers and successful customers."
There is still time to lock in a spot at this conference. Register by June 1st for a two-day Training/Session for only $250 and at: http://www.eventbrite.com/e/7th-ca-2eplex-worldwide-developer-conference-tickets-8388362819. Group discounts are offered – buy three and get the fourth free. The company with the most attendees will receive a special team incentive. The conference is being held at the first class AT&T Executive Conference Center and Hotel, http://meetattexas.com, in an uptown Austin location right on the University of Texas Campus. Contact CM First for discounted Conference rooms, see information on lodging and transportation here: http://plex2e.com/conference/hotel.
Monday, June 2 will begin with expert-led product training with hands-on education. Tuesday and Wednesday offers keynotes, sessions, roundtables and more, including talks from technology leaders. Thursday offers 'deep dives' and the always-popular 'Hackathon.' Selected sessions will be offered in Spanish. CM First will also highlight its complementary products CM WebClient and CM M3. CM WebClient is a fast-path to generating first class web and mobile applications from existing CA Plex models, without expensive redevelopment of client-server code bases. A new feature for 2015 is CM Hsync, a mobile device offline form capability enabling disconnected operation. CM M3 offers a direct path for modernizing CA 2E RPG and COBOL model applications to CA Plex, enabling redeployment to Java, .NET, and rich web/mobile. http://www.cmfirstgroup.com/initiatives/ca-2e-to-ca-plex/
"Invest in the future," said Christoph Heinrich, CEO of CM First and President of the CA 2E and Plex user community. "Training is essential to development success and this conference provides exactly what is needed to ensure development capabilities match business needs."
For developers in this space, this once every 18 months conference represents the best opportunity to learn both through sessions and networking, helping to elevate skills and abilities to the next level. Sign up now. Find all the information and register now at: http://plex2e.com/conference/
About CM First Group
CM First is a global software and services company with focus on application modernization, custom development of enterprise applications that support high-performing, and agile development teams in three key areas: Application Modernization for IBM Environments, Custom Application Development Architected and Agile, Tools and Technology for Future Development.
Contacts
Europe Headquarters
+41 41 508 01 05
info(at)cmfirstgroup(dot)com
Americas Headquarters
+1-512-796-4253
infotech(at)cmfirstgroup(dot)com
France
+33 608 504 285
infofrance(at)cmfirstgroup(dot)com