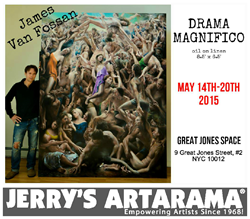 New York City, New York (PRWEB) May 14, 2015
In the first-ever Jerry's Artarama sponsored contemporary art exhibition, "Realism in the Raw", will present the works of renowned American realism painters, James Van Fossan, Brandon Soloff and Jennifer Gennari. While all three artists express unique compositions, their shared focus is on evoking the human condition within their subject matter.
Debuting at the show will be Colorado-based artist James Van Fossan's painting "Drama Magnifico". With three years and over 4,000 hours committed to its creation, the work has been regarded as one of the most important pieces of contemporary realism in the 21st century. The work features multiple generations climbing over each other in a somewhat desperate approach for the top. The display is reflective of the very human struggle through life and enlightenment. An original score written and preformed by the artist will accompany the debut of "Drama Magnifico".
New York City-based artist Jennifer Gennari will exhibit works depicting elegant displays of the subjects interacting with their environment. By capturing the subject in caste light so dramatically, she depicts contemplative scenes that express a hidden narrative. "Beyond hoping my work will draw the viewer in and hold them by its physical appearance," Gennari says, "I hope people can sense a narrative within the piece and think of it as a moment within a larger story."
The third artist exhibiting is New York City-based artist Brandon Soloff who intimately expresses the subjects in his paintings, capturing the complexity of their emotions. Soloff speaks of the deep connection he makes when painting his subjects and how those connections allow for an accurate depiction of the subjects true nature. Through these portrayals he is able to evoke not only the emotion from the subject but also, the emotion from the viewer
For more information on "Realism in the Raw" art show please visit: http://www.japop-upgallery.com.
An opening night reception for the artists will take place on Thursday, May 14th from 6pm – 10pm at 9 Great Jones Street, NYC 10012. The show will be open to the public May 15 – 20 from 10am – 9pm. An additional wine & cheese reception will be help Saturday, May 16th from 6pm – 10pm.
ABOUT JERRY'S ARTARAMA:
Jerry's Artarama was founded in 1968 when Jerry Goldstein opened his own art supplies and materials store in Long Island, N.Y., introducing discount pricing to budding and established artists. Jerry believed in treating customers like family, a tradition that still continues. Today, Jerry's offers more than 70,000 top-quality art materials at direct savings – as much as 75 percent off traditional retail on products from the industry's top art manufacturers, as well as Jerry's own exclusive product lines via an online retail store, art supply catalog, and Jerry's Artarama Superstores. In addition, Jerry's Artarama serves as an artist resource by providing instructional workshops; new art supply demos; and special art-related events, including the Art of the Carolinas Tradeshow, an annual event held in Raleigh, N.C., Jerry's Artarama's corporate headquarters. For additional information, please visit http://www.jerrysartarama.com.