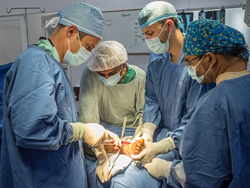 Scheer has become a major treatment center for the earthquake, due to its proximity to many of the mountain villages
LOMA LINDA, CA (PRWEB) May 14, 2015
Loma Linda University Health deployed an orthopedic surgical team to quake-ridden Nepal on Wednesday, May 6. The six-person team consists of two orthopedic surgeons, an anesthesiologist, an OR scrub tech, an orthopedic resident, and a logistics and support person.
They are currently on site at Scheer Memorial Hospital of Seventh-day Adventists with an anticipated return date of Friday, May 15.
James D. Matiko, MD, an orthopedic surgeon and LLU School of Medicine graduate is one of the two surgeons who made the trip to Scheer. "There were several surgical patients waiting for our team when we showed up for morning report," he said. "Although all cases were quake-related, at least half occurred in the one to two days after the initial quake and were secondary to jumpers out of one and two story buildings responding to aftershocks."
Matiko added that similar to the post-quake Haiti victims, many patients with open wounds were arriving at area hospitals on a delayed basis making it difficult to perform definitive open reduction and internal fixation (ORIF) because of concerns for infection.
Located 15 kilometers east of Kathmandu, in Banepa, Nepal, Scheer Memorial Hospital received minimal structural damage and is still active.
"Scheer has become a major treatment center for the earthquake, due to its proximity to many of the mountain villages," says Richard Hart, MD, DrPH, president of Loma Linda University Health.
During the earthquake, all staff and patients were moved outside into makeshift tent hospitals, and two cesarean sections were performed on the spot while the aftershocks continued. Scheer is a 130-bed facility, which is now servicing the needs of the growing number of earthquake victims.
# # #