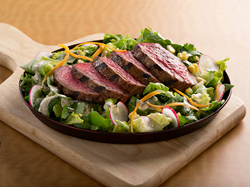 Oklahoma City, OK (PRWEB) May 14, 2015
Officials with the Made in Oklahoma Coalition have announced three recipes for May to coincide with National Barbeque Month. This month's recipes are Barbecue Chopped Steak Salad with Barbecue Ranch Dressing, Grilled Vegetables in Barbecue Butter Sauce, and Sizzling Barbecue Pizza.
Each of these recipes use ingredients from Made in Oklahoma Coalition food manufactures including products produced by Shawnee Milling Company, Head County, Hiland Dairy Foods, Andrew Honey Bees, Bar-S Foods, Schwab's Meat Co., Mountain View Meat Co., Swadley's, and Daddy Hinkles. May's recipes are a great way to celebrate National Barbecue Month.
The recipes are listed below:
BBQ Chopped Steak Salad with BBQ Ranch Dressing
2 Chef's Requested Bacon Wrapped Filet Mignon
1 ½ teaspoons Head Country All Purpose Championship Seasoning
½ cup Head Country Original Bar-B-Q Sauce
8 cups chopped mixed salad greens
½ cup thinly sliced radishes
¾ cup fresh or frozen (thawed) corn kernels
¼ cup chopped cilantro
Remove filets from packaging. Marinate in a shallow bowl with Head Country seasoning and sauce. Marinate 30 minutes to 1 hour.
Grill steaks on charcoal or gas grill over medium to medium-high heat about 6 to 8 minutes per side or until desired doneness. Remove steaks from heat, and let rest 5 minutes. Thinly slice steaks.
In a large bowl, combine salad greens, radishes, corn and cilantro. Toss with BBQ Ranch Dressing. Top with sliced steak. This makes four servings.
BBQ Ranch Dressing
¾ cup mayonnaise
¾ cup Hiland buttermilk
1 teaspoon Heady Country All Purpose Championship Seasoning
3 tablespoons Swadley's Original Honey Sweet BBQ Sauce
1 teaspoon Garden Club vinegar
1 teaspoons Andrews Honey Bees Cream Honey
1 tablespoon chopped fresh dill
2 tablespoons chopped fresh parsley
1 clove garlic, minced
¼ teaspoon freshly ground black pepper
Whisk together ingredients. Cover, and chill 1 hour. If dressing seems too thick, thin with buttermilk..
Grilled Vegetables in BBQ Butter Sauce
1 package J-M Mushrooms, sliced
1 large zucchini, sliced into rounds
½ head cauliflower, broken into pieces
1 ½ cups cherry or grape tomatoes
1 green bell pepper, sliced
1 red bell pepper, sliced
1 cup Hiland Salted Butter, softened
1 teaspoon Daddy Hinkle's Original Meat Marinade dry seasoning
¼ cup Swadley's Original Honey Sweet BBQ Sauce
1 teaspoon Andrews Honey Bees Cream Honey
Juice of ½ lemon
Heat outdoor charcoal or gas grill to medium heat.
Cook vegetables by skewering them onto kabobs. Or, make a foil packet with heavy-duty aluminum foil in a rectangle – shape the sides to make a handle and leave the top open.
In a mixing bowl, blend butter, Daddy Hinkle's seasoning, barbecue sauce, honey and lemon juice. Brush 1/3 of sauce onto vegetables. Cook 3 minutes, turn and brush with 1/3 more sauce. Cook another 3 minutes. Serve vegetables with remaining barbecue butter sauce.
Sizzling BBQ Pizza
1 package Shawnee Mills Original Pizza Crust Mix
½ cup Head Country Original Bar-B-Q Sauce
2 teaspoons Head Country All-Purpose Championship Seasoning
2 Mountain View Meat Company sausage links, sliced thin
2 Schwab's Hot Links, sliced thin
4 slices Bar-S bacon, cooked and crumbled
1 cup J-M Sliced Mushrooms
¼ cup jarred sliced banana peppers
½ cup cilantro, chopped
1 cup shredded mozzarella cheese
Follow package directions to make pizza crust. While the dough is resting, heat outdoor charcoal or gas grill to medium-high heat. Place pizza stone on grill to preheat while grill is preheating.
Heavily flour a wooden cutting board and roll out pizza dough, forming a 12- to 14-inch circle. Spread barbecue sauce and sprinkle seasoning onto dough. Top with sausage, bacon, mushrooms, peppers, cilantro and cheese.
Carefully slide pizza off board and onto pizza stone. Close the grill lid, and cook about 8 to 10 minutes or until the crust is golden brown.
About Made in Oklahoma Coalition
Providing a marketing and promotional platform to assist more than 45 Oklahoma food manufacturers, the Made in Oklahoma Coalition (MIO) builds brand preference and loyalty for members and its products. The MIO Coalition-member companies create a positive economic impact on the Oklahoma economy by employing more than 28,000 Oklahomans. The member-companies of MIO generate over $4.1 billion in annual sales for the state's economy. The MIO Coalition continues to expand the footprint of Oklahoma's food manufacturing sector through business retention and growth. For more information about MIO and its member companies, please visit http://www.miocoalition.com.
Media Contact:
Kerry Barrick | 405- 522-5601| kerry.barrick(at)ag.ok.gov