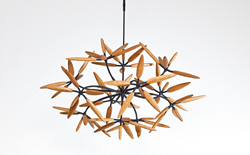 Art and wine are both entirely experiential and allow for shifting perspectives through each moment.
Yamhill, Ore. (PRWEB) May 18, 2015
Saffron Fields Vineyard owners Sanjeev Lahoti and Angela Summers have commissioned acclaimed modern American artist James Surls to create a sculpture for their Saffron Fields Hospitality Center in Willamette Valley. Surls, one of America's foremost living sculptors, is featured in public collections at New York's MoMA, Whitney and Guggenheim as well as a majority of America's top art museums. Surls' sculpture will hang from the ceiling in the Hospitality Center's Jewel Box Room, a natural light-filled space designed for showcasing art exhibitions, offering splendid views of the Saffron Fields' Japanese gardens and Pinot Noir vineyard. Lahoti and Summers, who have been following Surls' work for years, are thrilled to be adding his piece to their impressive private collection of contemporary art on display at the Saffron Fields Hospitality Center, which invites visitors to take part in a multi-sensory wine and art experience.
Surls describes his sculpture, titled "Flower Fields," as an "all over" piece, where the viewer looking up to the sculpture is taken into blooming floral fields. The sculpture, emblematic of the Saffron Fields' property and region's history, utilizes Douglas fir wood that was collected from the Tillamook Burn, a series of wildfires affecting over 300,000 acres of forestry between 1933 and 1951. Prior to Lahoti's and Summers' purchase of the property for the Saffron Fields Hospitality Center, wood collected from the burn was used to construct a large barn which occupied the land for over 60 years, supporting dairy farm and agricultural operations. Giving continued life to the wood grown on the soil of this property, it was thoughtfully repurposed throughout the Hospitality Center including the Jewel Box room exterior. Surls has now transformed the rare old growth fir into a work of art, "Flower Fields."
Lahoti and Summers describe the Jewel Box room as an ideal space for an artist to create a piece commanding attention. The intimate space, which is designed for showcasing art, overlooks the tranquil ponds of Saffron Field's Japanese gardens, designed by internationally-renowned landscape architect Hoichi Kurisu. "With the breathtaking beauty of the gardens and land viewable from the Jewel Box room, it posed a challenge for an artist to create a dynamic piece that would have a presence in the space," says Summers. "I've loved Surls' work for some time and know his piece will have that great presence, drawing our visitors' focus up and into the piece."
Surls, who grew up in East Texas, uses various earth elements in his works – woods and metals - and cites the American landscape as his muse, paying particular attention to the Texas environment which he was raised. Surls has commissioned works for many notable private and public collections, and currently is exhibited in the public contemporary collections of museums in Los Angeles, Chicago, Houston, Dallas, Portland, and more. "From time to time the opportunity presents itself and the invitation is given to step into the history walk of a generation," says Surls. "To be asked to make the crown jewel for Saffron Fields, this place of quite beauty, is one of the great moments of my life."
The installation of Surls' "Flower Fields" in the Saffron Fields Tasting Room will occur on June 2, 2015. Surls' "Flower Fields" will join other contemporary works by leading artists such as Juame Plensa, Leo Villareal, and Jennifer Steinkamp. The installation at Saffron Fields will be filmed by a documentary crew currently shooting a project covering Surls' perspective and place as a renowned American artist. Saffron Fields' inclusion in the film highlights the myriad of unique and special places where Surls' work appears across the nation and around the world.
Summers says of Saffron Fields' wine and experience, "Art and wine are both entirely experiential and allow for shifting perspectives through each moment. It is important to ground yourself in the experience of the moment, and whether our visitors are tasting our wines or enjoying the beauty of our art or gardens, we encourage them to revel in the moment during their time with us at Saffron Fields."
About the Saffron Fields Hospitality Center:
Saffron Fields in Willamette Valley is named for the world's most valuable spice, evocative of the elegant and enlightened hospitality experience offered at the Saffron Fields Hospitality Center. Going beyond the stereotypical wine tasting, the Saffron Fields Hospitality Center offers a multi-sensory experience bringing together the eloquent flavors of Saffron Fields' pinot noirs and the serene beauty of the Willamette Valley landscape and the Saffron Fields Japanese Gardens, designed by acclaimed land architect Hoichi Kurisu, surrounding and encompassing the Hospitality Center. As avid collectors of contemporary art, owners Sanjeev Lahoti and Angela Summers curate a permanent collection of artworks by leading contemporary artists, showcasing these works in the main tasting room and other spaces throughout the Hospitality Center. With wine tasting and private event options, behind the Saffron Fields' wine and art experience is an intention to rejuvenate the senses, to lose oneself in a moment of joyful contemplation and serenity.
About Saffron Fields Vineyard's Wine:
Saffron Fields Vineyards is a producer of fine-quality pinot noirs and chardonnay, created by respected winemaker Tony Rynders. Working intently with the pinot noir grapes produced in their vineyards, Saffron Fields and Rynders produce luxurious wines that are both pleasant and adventurous. Rynders brings over 25 years of winemaking experience and a recognition as one of America's top winemakers, having formerly produced wines on several continents and for several leading wine labels.
For the Saffron Field's Fact Sheet and additional photos, please visit here.