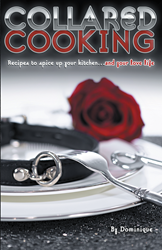 People looking for kinkiness will find it, but my book answers more of the 'why' questions than the 'how'.
PHOENIX (PRWEB) May 15, 2015
"Not every 'dom' is a Christian Grey," said Dominique Schiavoni, an Italian cook and BDSM enthusiast.
Schiavoni has a unique background, both in gourmet Italian cooking and romantic psychology. While managing a premium matchmaking service, he intimately interviewed hundreds of men and women regarding what they were looking for in their love lives. He has helped develop and worked with thousands of psychometric profiles, helping kindle the fires of romance. What he learned about typical romantic desires might surprise most people.
Now he has written a new book to stoke the fires of the kitchen, as well as the heart. "Collared Cooking" is his new book that provides an introduction to elements of BDSM activities for novices. A lifestyle for some practitioners, or an occasional way to spice up the bedroom for others, BDSM can be a tricky to dive into. Schiavoni provides the methodology and philosophy that couples can use to add new ingredients to their sex lives, safely and sanely.
"After training with law enforcement, I have applied the handcuffs both professionally and recreationally," Schiavoni said. "People looking for kinkiness will find it, but my book answers more of the 'why' questions than the 'how.' It's not just about sexuality... it's also about love, relationships, misogyny vs. misandry, psychology and, of course, the cooking."
Schiavoni uses his skill as a gourmet Italian cook to introduce recipes as a vehicle for exciting activities throughout the evening. "Collared Cooking" provides couples an interesting dinner date.
For more information, visit http://www.collaredcooking.com/
"Collared Cooking" By Dominique Schiavoni
ISBN: 978-1-4834-2577-1
Available in softcover and e-book on Amazon, Barnes & Noble and LULU Publishing
About the author
Dominique Schiavoni has introduced many people to the dominance/submission lifestyle and activities contained therein. Doing so with great respect and affection, Schiavoni hopes to correct misconceptions that he sees society holding in regards to D/s practitioners. With a personal history in military experience, law enforcement training, healthcare and dating services, Schiavoni brings his backgrounds together to provide an interesting and entertaining book for those looking to spice up their kitchens and bedrooms. He lives with his fiancé near Phoenix.
###
EDITORS: For review copies or interview requests, contact:
Spencer Hotz | 317.602.7137 | shotz(at)bohlsengroup(dot)com
(When requesting a review copy, please provide street address.)