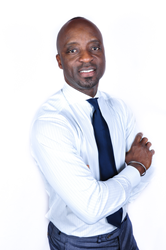 I am quite humbled to receive this honor from my alma mater, the University of New Haven.
NORWALK, Conn. (PRWEB) May 14, 2015
etouches President and CEO Oni Chukwu will receive an honorary Doctor of Business Administration at the Spring Commencement of the University of New Haven on Sunday, May 17th at 10:00 a.m. at the Toyota Presents Oakdale Theatre in Wallingford, Connecticut. Recognized for his successful career in the software industry and his outstanding contributions to the community, Chukwu will receive the honorary PhD at the ceremony Sunday where approximately 500 undergraduate degrees will also be awarded.
"[Oni's] career shows what can be accomplished when talent is combined with hard work and dedication, while [his] commitment to give back sets a wonderful example for our students to emulate," said University of New Haven President Steven H. Kaplan.
With more than 20 years of experience in growing global technology companies, Chukwu has a successful track record raising billions in investor capital and proven skills in recruiting and nurturing global talent to deliver innovative solutions for companies worldwide.
Aside from Chukwu's professional success in the software industry, he is also dedicated to giving back to the community. With his charity Africa Plan Foundation, he supports under privileged youth and women's issues globally in the areas of education, healthcare and leadership development. Setting forth a standard at etouches that supports local communities and charities that employees are involved in.
"I am quite humbled to receive this honor from my alma mater, the University of New Haven," said etouches CEO, Oni Chukwu. "With a mission that aligns with etouches own, to prepare students to be successful in a global society, I hope students will recognize the support that the University has given them and to use every opportunity they have to give back to their communities, as global citizens."
About Oni Chukwu
K. Oni Chukwu is president and CEO of etouches, the leader in cloud-based events management software. He joined the company in 2013 to lead etouches through its next phase of growth. Chukwu has more than 20 years of experience in growing global technology companies and working closely with enterprise business users around the world, providing them the software, technology tools and services they need to achieve their growth goals. Prior to joining etouches, he served seven years as executive vice president and CFO of Triple Point Technology, a firm that specializes in solutions for commodity trading, risk management and logistics. He joined the University of New Haven's Board of Governors in 2007. He also is a member of the Board of Directors of the Connecticut Technology Council. Chukwu holds a Master of Business Administration from the University of New Haven.
About etouches
etouches is a leader in cloud event management software. Founded in 2008, the event management technology company has more than 900 customers in 35 countries. Covering every major function in the event planning lifecycle, the multi-lingual and multi-currency software has 15 modules for registration, budgeting, surveying, mobile app and more. Headquartered in the United States, the company has three wholly-owned subsidiaries in the United Kingdom, Australia and the United Arab Emirates. Learn more at http://www.etouches.com.