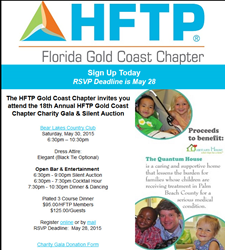 "This is a chance to give back to our community," Peter Dehlinger, of Gatekeeper Business Solutions notes
Deerfield Beach, Fla (PRWEB) May 26, 2015
The Charity Gala will be held at Bear Lakes Country Club on Saturday, May 30, 2015 from 6:30 PM – 10:30 PM. Dress Attire is Elegant with Black Tie Optional. The Gala includes an open bar, entertainment, and a plated three course dinner. For more information or to register for the event contact Evelyn Adams, 2015 Charity Chair, at evadams(at)aol(dot)com.
Hospitality Financial & Technology Professionals (HFTP), a non-profit organization, is the society for financial and IT professionals in the hospitality industry. More than 4,300 members from around the world enjoy the many benefits HFTP offers.
The Gold Coast Chapter appreciates participation of over 150 hospitality professionals from Boca Raton to Palm Beach Gardens, and west to Okeechobee. The Chapter hosts nine educational and two social events each year as well as supporting an annual charity event. Florida is home to seven HFTP chapters on behalf of the biggest membership group in the international association.
Quantum House is a compassionate and helpful home that reduces the affliction for families whose children are getting treatment in Palm Beach County for a severe medical condition. Quantum House opened its doors in May 2001 to families going through a very challenging time. The House continues to be where hope has a home® for more than 500 family members each year. The House is the single hospital hospitality house aiding children and their families between Fort Lauderdale and Orlando, Florida. Over the years, the House has helped families from every state and approximately two dozen countries around the world.
"This is a chance to give back to our community," Peter Dehlinger, of Gatekeeper Business Solutions notes. "The support funds the Quantum House operation to make it as comfortable as possible for families with children getting medical management to treat a severe situation in Palm Beach County."
Gatekeeper Business Solutions offers a user friendly, cloud based application (lms.net) which creates quantifiable savings in labor costs, increases administrative efficiency and improves revenue.
Gatekeeper is also a primary supplier of multiple data collection devices including labor saving biometric clocks, and a Work Time application for PC terminals allowing for ease of data input into a labor management system.
About Gatekeeper Business Solutions, Inc.
Gatekeeper Business Solutions, Inc., a labor management systems company, offers a proprietary suite of software tools (LMS) that includes time and attendance, scheduling, and integrated payroll software, for midlevel private and public sector companies. The company has provided a broad range of technology based solutions to manage labor costs to clients nationally. For more information, please visit the company's web site at http://www.gatekeepersolutions.com.
###
Media Contact:
Christine Smith
Gatekeeper Business Solutions
888.428.3577
csmith(at)gatekeepersolutions(dot)com