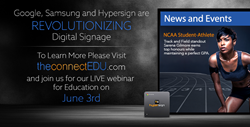 "We are incredibly excited about the benefits this solution brings, engaging students and staff while providing incredible value." - Neil Willis, CEO, Hypersign
(PRWEB) May 27, 2015
Hypersign, an industry leading digital signage provider, recently announced the availability of a new digital signage solution for the K-12 and Higher Ed markets in collaboration with Google and Samsung Electronics America called "theconnectEDU." The bundled offering enables students and staff to receive a wide range of content via digital displays and desktops such as campus broadcasts and timely alerts for emergency preparedness.
"We are very excited about the benefits this solution brings, engaging students and staff while providing incredible value," said Hypersign CEO Neil Willis. "Our objective is to deliver a system that helps protect, educate and inform students, staff and visitors. Hypersign has only tapped the initial stage of this collaboration, and we look forward to offering more solutions to the education market in the future."
With the combination of Hypersign software, Google Chrome Devices and Samsung Commercial Displays, content can be accessed and updated in real-time from anywhere. The platform includes:

Hypersign's cloud based, easy-to-use digital signage platform allows users to create and publish a wide range of content, which can be distributed to digital signs and desktop PCs from anywhere and managed from one dashboard.
Google Chrome Devices and Management Suite enable school administrators to manage their organizations' Chrome devices, including Chromeboxes, from one central location, which can be accessed from anywhere at any time.
Samsung Commercial Displays deliver dynamic, engaging messages. These displays produce high quality images using commercial grade components and an extensive range of sizes from ten inches to large video walls.
TheconnectEDU partnership improves communications between students and school administration using best-in-class products. To further introduce this initiative, a free live webinar hosted on theconnectEDU website will be held on June 3 at 2 p.m. EDT. This webinar will explain the benefits for the K-12 and Higher Ed markets. For more information, please visit http://www.theconnectedu.com.
About Hypersign:
Hypersign is an award winning digital signage software development company that specializes in created content delivery software for the education and healthcare markets. Hypersign is headquartered in the upstate of South Carolina and serves the U.S., Canada, Europe and Middle Eastern Markets.