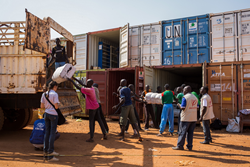 "The war is destroying what communities have worked tirelessly to rebuild, A peaceful resolution to this drawn-out conflict is urgent."
Juba, South Sudan (PRWEB) May 14, 2015
Amidst heavy fighting, the global humanitarian organization Mercy Corps – along with a number of other international aid agencies – has had to temporarily curtail operations in southern Unity State in South Sudan, scaling down its activities in Panyijiar County. The new wave of intense violence coincides with the height of the country's planting season, renewing worry about the adequacy of the food supply in the coming months.
"A number of our team members are able to continue working, and, as soon as it is safe, our programs will resume at full capacity," says Mohammed Qazilbash, Mercy Corps' country director in South Sudan. "In the meantime, we urge all parties to the conflict to honor the many ceasefires they have signed and facilitate the free movement of people and humanitarian assistance."
According to Mercy Corps team members, the fighting has forced families to flee into the bush. Some had found safety in Panyijiar last year after escaping fighting in other parts of the country. Children have recently returned to school, and farmers are just beginning to prepare their fields to plant crops for harvest between August and October. According to some estimates, about 500,000 people are now left without assistance because of the reduction in humanitarian activities throughout Unity State.
"The war is destroying what communities have worked tirelessly to rebuild," says Qazilbash. "A peaceful resolution to this drawn-out conflict is urgent."
In South Sudan, Mercy Corps provides food and livelihood assistance benefiting more than 100,000 people, as well as water and sanitation services to more than 40,000 people. The organization recently completed the construction of 34 temporary learning spaces in Panyijiar, allowing 7,000 school children to return to their classrooms and resume their studies.