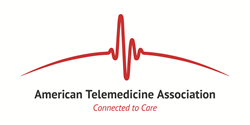 Washington, DC (PRWEB) May 14, 2015
WASHINGTON- Thursday, May 14, 2015— The American Telemedicine Association (ATA) recently elected Reed V. Tuckson, MD, as President of the Association's Board of Directors. Dr, Tuckson has been recognized among the 50 most influential physician executives and top 25 minority executives in healthcare. With a distinguished career that has spanned over 35 years, Tuckson has served in a variety of senior posts including the Senior Vice President for Professional Standards of the American Medical Association and the Executive Vice President and Chief of Medical Affairs for UnitedHealth Group. He is currently the Managing Director of Tuckson Health Connections. Tuckson is joined by the following members of the Board's executive committee:

President-Elect, LTG (Ret.) James Peake, MD, Senior Vice President, CGI Federal, former U.S. Secretary of Veterans Affairs and Surgeon General of the United States Army
Vice President, Peter Yellowlees, MD, MBBS, Professor of Clinical Psychiatry, Department of Psychiatry and Behavioral Sciences, UC Davis Health System
Secretary and Treasurer, Herb Rogove, DO, FCCM, FACP, President & CEO, C3O Telemedicine
Immediate Past President, Yulun Wang, PhD, Chairman & CEO, InTouch Health
In addition, two other individuals recently joined the Board of Directors:
Amnon Gavish, ScD, Senior Vice President of Vertical Solutions, Vidyo, Inc.; Chair of ATA's Industry Council
Kristi Henderson, DNP, NP-BC, FAEN, Chief Telehealth and Innovation Officer, the University of Mississippi Medical Center; Past Chair of ATA's Institutional Council
"We are pleased to announce the addition of this group of prestigious individuals to the Board and officers of this Association," said Jonathan Linkous, CEO of ATA. "This reflects ATA intention to work with a balance of leaders from both the ranks of healthcare providers and industry in order to fulfil our goal to improve healthcare delivery through the use of telecommunications technology."
Other current at-large Board members include Ellen R. Cohn, PhD; Naomi Fried, PhD; Alexis Gilroy, JD; John Glaser, PhD; Julia L. Johnson, JD; Roy Schoenberg, MD; and Andrew R. Watson, MD.
About the American Telemedicine Association
The American Telemedicine Association is the leading international resource and advocate promoting the use of advanced remote medical technologies. ATA and its diverse membership work to fully integrate telemedicine into healthcare systems to improve quality, equity and affordability of healthcare throughout the world. Established in 1993, ATA is headquartered in Washington, DC. For more information, visit http://www.americantelemed.org.