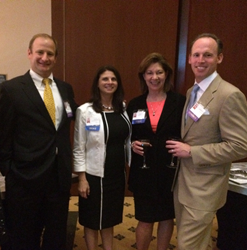 Houston, TX (PRWEB) May 15, 2015
Leading commercial real estate services firm Savills Studley announced today that six of the Houston office's star producers were recognized as the top local commercial real estate brokers for office tenant representation at Houston Business Journal's Heavy Hitters Awards reception on May 7 at the Omni Hotel.
Mark Russell and Derrell Curry were among the top ten; Mark O'Donnell and Drew Morris were ranked in the top 20; and rounding out the list were Jim Bell and Kyle Kelley.
Brokers were asked to provide their 2014 transactional volume amount in dollars and total number of deals.
From that data, Houston's top commercial real estate brokers were ranked and published in a special edition of HBJ May 8.
Collectively, the six Savills Studley brokers, who accounted for one fourth of the top office tenant representatives for 2014, represented nearly 4 million square feet of leasing transactions totaling approximately $1 billion in commercial real estate business.
About Savills Studley
Savills Studley is the leading commercial real estate services firm specializing in tenant representation. Founded in 1954, the firm pioneered the conflict-free business model of representing only tenants in their commercial real estate transactions. Today, supported by high quality market research and in-depth analysis, Savills Studley provides strategic real estate solutions to organizations across all industries. The firm's comprehensive commercial real estate platform includes brokerage, project management, capital markets, consulting and corporate services. With 27 offices in the U.S. and a heritage of innovation, Savills Studley is well known for tenacious client advocacy and exceptional service.
The firm is part of London-headquartered Savills plc, the premier global real estate service provider with over 27,000 professionals and over 600 locations around the world. Savills plc is listed on the London Stock Exchange (SVS.L).
For more information, please visit http://www.savills-studley.com and follow us on Twitter @SavillsStudley and LinkedIn.
# # #