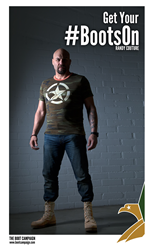 Dallas, Texas (PRWEB) May 18, 2015
The Boot Campaign today released a gift guide that goes well beyond traditional Father's Day coffee mugs, picture frames and golf-themed kick-knacks. Known for their modern take on patriotic apparel, the veteran support nonprofit developed a curated list that merges fashion with philanthropy and appeals to every dad. With proceeds funding assistance programs for military families, fathers and veterans get the thanks they deserve.
Skip the tie and give Dad a pair of Boot Campaign combat boots for Father's Day. They're way less stuffy and at least $50 of the purchase price supports the Boot Campaign mission of patriotism, awareness and assistance for military families. Thank Dad for all he does, thank the troops for all they do for our country.
http://shop.bootcampaign.com/collections/boots/products/recondo-boot-7-multicam
Boot Campaign's new athletic shirts are almost as cool as Dad, but don't tell him we said that. Available in two manly cuts and colors, pick one or double the order. http://shop.bootcampaign.com/collections/mens-unisex/products/navy-bc-dry-fit-tee or http://shop.bootcampaign.com/collections/mens-unisex/products/black-bc-dry-fit-sleeveless-tee
It's true...the Boot Campaign trucker hat looks awesome, and Dad's going to love it, but it comes with a not-so-secret weapon, too. Proceeds from retail sales help Boot Campaign support the military superheroes who protect America from the bad guys, giving fathers everywhere the freedom to mow the yard in black socks and sandals if they so choose. Which we hope they don't. http://shop.bootcampaign.com/collections/accessories/products/bc-trucker-cap
Visit the Boot Campaign store at shop.bootcampaign.com for Father's Day gifts that give back.
About Boot Campaign
Established in 2009, the Boot Campaign is a national 501(c)(3) charitable organization dedicated to promoting patriotism for America and our military community; raising awareness of the unique challenges service members face during and post-service; and providing assistance to military personnel, past and present, and their families. Retail sales of combat boots, apparel and mission-focused merchandise, general public donations and corporate sponsorships fund programs that support military families. These efforts extend to all generations of military personnel who endure significant physical, emotional and circumstantial hardships resulting from their service and sacrifice. Visit http://www.bootcampaign.org to learn more.