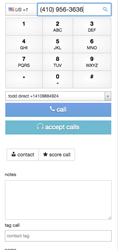 Severna Park, MD (PRWEB) May 18, 2015
CallTrackingMetrics software combines marketing and call tracking analytics with contact center software. The solution allows businesses to save money and complexity in their physical phone systems and for the first time see the performance of their marketing efforts and contact center performance in one place. Some highlights of the CallTrackingMetrics Softphone system are the ability to accept inbound calls, make outbound calls, transfer calls and conference calls- from anywhere in the world.
Across the past 18 months, CallTrackingMetrics has been steadily been rolling out sophisticated call routing tools geared at call and contact centers so that customers no longer have to use two different products to track their advertising and their call center agents. With the release of the CallTrackingMetrics Softphone, call center customers do not even need a phone to accept calls but rather have the flexibility to be on the phone anywhere from their computer. Coupled with the release of the advanced agent queueing capabilities and a real time contact center dashboard, they are entering the call center industry rapidly and providing customers with flexible, transparent pricing options typically not seen in the space.
About CallTrackingMetrics
CallTrackingMetrics, founded in 2008 by Todd and Laure Fisher, was launched to assist advertising agencies and businesses track which advertising sources were converting into phone calls. They developed a unique algorithm to match exact website visitors to phone calls. CallTrackingMetrics has since evolved from a small phone call tracking company to an international leader in the industry; providing in depth call tracking and call center management services to over 30,000 users in 30 countries worldwide. CallTrackingMetrics has gained much of its popularity for their excellent customer service, easy to use software and ability to integrate with major services such as Google Analytics, Adwords, Salesforce, Optimizely and Wordpress.