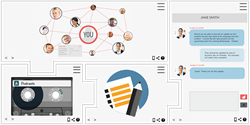 Our Education Ecosystem is not simply a place to push content and administer programs online. It is a new way of thinking about your programs; how they are created, distributed and consumed.
Lincoln, RI (PRWEB) May 15, 2015
Volute Technologies is taking its Web App Ecosystem platform to the education sector. The idea is simple; turn education content into reusable, collaborating building blocks. The implementation is not so simple; however, Volute has done it.
The type of work Volute has been doing for more than a year has recently been touted as the "next generation digital learning environment" by an Educause report released in May and an effort funded by the Bill & Melinda Gates Foundation. Educause specifically mentions, "The next-generation learning system shouldn't be a system at all, but a 'digital learning environment' where individual components fit together like Lego® bricks." Similarly, an article Volute published in March stated, "Think of each Web App as a Lego® piece that can connect with other pieces to create entirely new structures."
This is great news for the education sector that a movement is afoot to revolutionize the way technology supports education initiatives for a new generation of learners. Volute has quietly been at the forefront of custom education software solutions for several years developing executive education, corporate training and special needs programs. At the core of Volute's Education Ecosystem platform is a philosophy to modularize learning into digestible chunks of related information while offering fun and creative ways for learners to engage and consume these chunks. Since chunks is not a technical term, Volute calls them Volute Web Apps.
Volute Web Apps are building blocks based on the client's content and resources and are published within the client's own Education Ecosystem App Library. These apps can be anything – powerful data collection and analytic tools, media, assessments, personalized reports, collaboration tools, and much more. The client can then assemble these apps to create unique educational programs. These programs are accessed only by authorized users – established by the administrator of the program – via each user's personal App Library.
Jeffery Lagomarsino is Volute's CMO and a former Director at Columbia Business School. "It's exciting to see growing recognition that this learner-centric model is the new frontier of digital education. Volute's mission is assisting educational institutions with this transition to tap into the vast opportunities that await."
Volute's Education Ecosystem addresses key features lacking in mainstream learning management systems. Interoperability is achieved via a standardized Volute App API (Application Programming Interface) allowing Volute Apps to collaborate with other Volute Apps – a feature not available with native apps. Beyond app communication, web services are at the core of the Ecosystem architecture allowing for external integration. Personalization can be achieved at an organization level, group level and even for a specific individual. The built-in identification design allows administrators the most granular distribution and access methods to apps or programs. Accessibility is omni-channel. The modular and responsive design automatically adapts the Ecosystem to any desktop, tablet, phablet and smartphone.
"We do not classify ourselves as an LMS in the traditional sense," says Michael Croft, Founder and CEO of Volute Technologies. "Our Education Ecosystem is not simply a place to push content and administer programs online. It is a new way of thinking about your programs; how they are created, distributed and consumed." Michael goes on to say, "These educational apps are valuable and functional within a [educational] program, but also as standalone utilities outside the traditional program scope. This is the profound idea; using apps that have real-world value for the user and also injecting these apps into an educational program. The data collected by these apps fuels research – and the cycle repeats. Hence the ecosystem designation."
About Volute:
Volute Technologies, subsidiary of Volute Holding Corporation, is at the forefront of custom software development. Volute is headquartered in Lincoln, Rhode Island with a sales office in New York, NY. The company's education division is a strategic partner for innovative education models and technology, working with educational institutions to bring personalized programs to market using the Education Ecosystem platform. Dovetailing offerings provided by Volute include software development, consulting services and design services. For additional information about Volute, its services and the Education Ecosystem, visit http://www.volute.education, call 888-316-6303, or email sales(at)volute(dot)education.