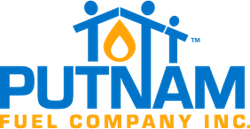 "Whether you're enjoying the outdoors at a cookout with friends, a family reunion or a school graduation celebration, we hope these tips help keep you safe and comfortable in the summer sun."
Goffstown, New Hampshire (PRWEB) May 19, 2015
With summer just around the corner, many of us are already dreading the accompanying relentless heat and muggy temperatures. To help homeowners prepare for the onslaught of warmer climes, Putnam Fuel – a prominent and trusted provider of air-conditioning, heating system and fuel delivery services in Southern New Hampshire for more than 75 years – offers the following top five summer safety tips:
1. Pack it in. Peak heat times may vary, but generally tend to be between noon and 3 p.m. Stay indoors as much as you can – at home or in any air-conditioned venue such as the mall, a museum, the bowling alley or a movie theater. If you have to be outside, seek out shade whenever possible. Even stepping out of the direct sunlight for a few minutes can cool you down and raise your energy level.
2. Drink up! Water, that is – and plenty of it. By the time you feel thirsty, you may already be dehydrated, so prime your pump (literally) by drinking water throughout the day. If you're physically active, whether you're working out or working outside in the garden, you'll most likely need even more water to keep adequately hydrated. And note that all beverages are not created equal: those containing alcohol or caffeine can actually promote dehydration, so you'll want to limit them accordingly.
3. Be a summer fashionista. Put your best foot – and the rest of you – forward by dressing appropriately for the warmer weather. Wear lightweight fabrics that wick perspiration away from your body, especially when exercising, including long sleeves to limit sun exposure. Sport a wide-brimmed hat and sunglasses to shelter eyes and face from harsh summer rays, and slather up liberally with sunscreen. Go big or go inside – opt for an SPF of 50 or more and re-apply often.
4. Don't sweat the small stuff. Pay special attention to children and pets, as they tend to be even more vulnerable to the blistering heat and sun. Focus on fun indoor activities, and protect your kids' sensitive skin with child-friendly sunscreen when they're outside. Make sure your four-legged family members have constant access to fresh water and a cool, shaded area, and avoid walking them in the heat of the day. If it's too hot for you, it's too hot for your pet.
5. Keep your cool. Schedule a routine maintenance air conditioning inspection with a trusted provider to make sure your system is in tip top shape for summer. Putnam Fuel's EPA-certified technicians service and install all makes and models of air conditioners, including traditional split systems, mini-split ductless systems, and all-in-one package units. Their Central Air Service Plan includes a tune-up along with first-in-line priority service and a discount on the repair or replacement of parts (including labor).
"Whether you're enjoying the outdoors at a cookout with friends, a family reunion or a school graduation celebration, we hope these tips help keep you safe and comfortable in the summer sun," said Whitney Welch, Inside Operations Manager for Putnam Fuel.
For more information about Putnam Fuel, visit http://www.putnamfuel.com or call (603) 497-4897.
About Putnam Fuel Company Inc.
Founded in 1937 by father-and-son team John and Lawrence Putnam, family-owned Putnam Fuel has enjoyed a rich heritage of providing "more energy for family moments" for the past eight decades. Currently operated by fourth generation descendants John Miles and Betty Martel, the client-centric company offers a full complement of heating and air conditioning services along with oil delivery, hot water tank protection and Oil Save Score™ energy-saving audits services to customers in Hillsborough, Merrimack and Rockingham Counties.