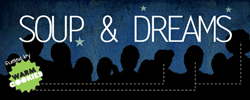 Denver, Colorado (PRWEB) May 18, 2015
Warm Cookies of the Revolution, Denver's award-winning "civic health club" is partnering with the Sabrina Merage Foundation and Denver Arts & Venues for a special event at the McNichols Building (144 West Colfax, 2nd Floor) on Thursday, May 28 from 6 p.m. to 8:30 p.m.
Come experience the Afro-pop Jazz Orchestra "The Pink Hawks", award-winning poet Bobby LeFebre, and the youth mariachi ensemble "El Mariachi Juvenil de Bryant Webster".
"Soup and Dreams" will feature four community organizations who will "pitch" the audience on the work of another organization. In addition, attendees will enjoy soups from the diverse range of cultures in our community: Burmese, Ethiopian, Mexican, Japanese, Italian, and more.
It's as easy as this:
Step 1: Throw a few bucks into the hat.
Step 2: Grab some soups from a variety of different cultures.
Step 3: Be entertained by incredible musicians and performers.
Step 4: Listen to four local organizations doing vital work in a changing Denver "pitch" the efforts of another local organization.
Step 5: Find ways to take action.
All donations collected at the door will be distributed among the participating organizations, and attendees will find out ways to take action on hot-button civic issues such as gentrification, inequality, and immigration. Participating community organizations include: Project VOYCE, Project Worthmore, Metro Denver Sanctuary Coalition, and Produce for Pantries.
On-site Spanish language translation will also be available.
For additional information and images, please visit http://www.warmcookiesoftherevolution.org/event/soup-and-dreams-2/ or https://www.facebook.com/events/1591812647702278/
For a short video featuring last year's 2014 "Soup and Dreams," please visit https://vimeo.com/89055348
About Warm Cookies of the Revolution
Warm Cookies of the Revolution is the world's first Civic Health Club, combining vital civic issues with top-notch arts and culture, engaging regular folks in civic action. You can catch Warm Cookies programs every month at the McNichols building and the Denver Art Museum, in addition to other venues across the metro area. Learn more at http://www.warmcookiesoftherevolution.org.
About the Sabrina Merage Foundation
The Sabrina Merage Foundation was founded by Sabrina Merage in 2008 with the intention of building bridges between diverse societies through educational programs for young people. The foundation focuses on issues of religious, cultural, racial, and ethnic diversity and seeks to partner to find progressive solutions and programs that promote tolerance of these issues in schools and college campuses throughout the world. Learn more at http://www.sabrinameragefoundation.org.