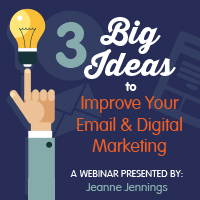 We are extremely excited to have a speaker of Jeanne Jennings' caliber. All those who attend the webinar can expect to walk away with a ton of digestible information on email marketing.
Santa Clara, CA (PRWEB) May 21, 2015
On May 28, 2015 at 1:00 PM EST, Pinpointe, a leading cloud-based email marketing company, is hosting a webinar on how marketers can make big improvements to their email campaigns, including performance, response rates, data gathering, and more.
The webinar is being presented by sought-after speaker and author Jeanne Jennings. Jennings is a recognized expert in the email marketing world and was recently named one of:

the World's Top 50 Email Marketing Influencers (Cision, July 2014).
the Top Email Marketing + Design Thought Leaders on Twitter (Litmus, January 2015)
In this online event, Jennings provides practical advice marketers can instantly start leveraging, along with enough ideas to become an email marketing rock star in any organization.
Some webinar highlights include:
Methods to gather data
Ways to boost open rates and response
#1 feature that will improve productivity and bottom line results
Biggest reason that technology doesn't deliver as anticipated – and how to address it
Plus more
For those interested in creating or improving your email marketing and digital marketing – this is not the webinar to miss. Learn more or register.
About Pinpointe
Pinpointe is a top-rated email marketing provider by TopTenREVIEWS. Intuitive and flexible, Pinpointe is ideal for customers who need more than the basics of email marketing but aren't ready for the complexity of full-on marketing automation system.
To experience Pinpointe at no cost call (800) 920-7227 or find Pinpointe on the web.