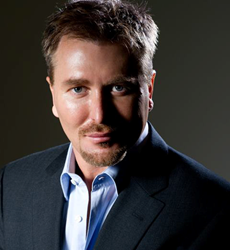 Santa Monica, Calif. (PRWEB) May 15, 2015
Bryan Wiseman, who got his first big break starring opposite Russell Crowe in a TV series called "Living With The Law," will return to the silver screen in the sci-fi psychological thriller "Omniscient." The film will shoot in downtown Los Angeles in June 2015.
"Omniscient," written by Alex Dale and Eric Shipley is a complex and intellectually engaging story. Lucien, a British cult leader, is second in command of the Son's of Enlightenment. He comes from a long line of telepaths, yet it's his estranged teenage daughter, Grace, who was born with enhanced telepathic ability; the strongest in centuries. Lucien must subvert his fatherly tendencies and give in to the darkness to carry out the orders of Sons of Enlightenment leader, John Sutter (Wiseman). However, Lucien has plans of his own; kidnap Grace to clone her telepathic ability before her mother thwarts his plan to control humanity.
Wiseman, who began his acting career in 1980 as the face of Channel 7 in Australia, has an illustrious TV career. While in production on "Living With The Law," Wiseman and Crowe were approached to come to Hollywood and meet with agents. However, two days after wrapping "Living With The Law," Wiseman's mother suffered a serious stroke and he was forced to make a choice between his career and family. He chose to take a break from acting to care for his ailing mother.
His acting career resumed in the late 90s when he became a series regular on Australia's most popular daytime series "Home and Away" as Dr. John Wilson and opposite Isla Fisher (The Great Gatsby, Rango) and Isabel Lucas (Transformers, The Water Diviner).
In 2012, Wiseman was cast in a reality TV show for network in Los Angeles called "Beverly Hills Canine Country Club." Wiseman will play a sinister character as the cult leader of a group of men whose success depends upon the ability of a 14 year old girl.
For more information, please visit the Official Website of Bryan Wiseman.