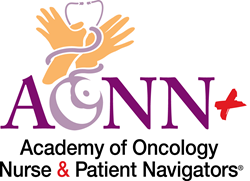 Both AONN+ and Sarah Cannon share the desire to build quality navigation and enhance patient care.
CRANBERRY, NJ (PRWEB) May 15, 2015
The Academy of Oncology Nurse & Patient Navigators® (AONN+) and Sarah Cannon, the global cancer enterprise of Hospital Corporation of America (HCA), today announced a new collaboration to accelerate growth and development of oncology navigation through an enhanced understanding of this vital role in serving cancer patients. Oncology navigation is one of the newest and fastest growing professions in healthcare today, but it is a field that is not yet fully defined or broadly understood by many in the medical community or public.
"Navigators have the ability to transform the patient experience and improve outcomes. The challenge is that few people understand the scope and role of an oncology navigator," says Crystal Dugger, Assistant Vice President of Clinical Operations at Sarah Cannon. "Through this collaboration, Sarah Cannon and AONN+ can work together to standardize role clarity for nurse navigation in cancer, develop a standardized education platform, and demonstrate value through verifiable data. AONN+ has the unique ability to share best practices through their chapters and increase awareness of evidenced-based outcomes through their publications."
As a part of this collaboration, Sarah Cannon is encouraging its more than 200 nurse navigators to become AONN+ members and develop new chapters across the country. Many Sarah Cannon nurse navigators will be participating in the AONN+ Sixth Annual Navigation and Survivorship Conference being held in Atlanta, Ga., on October 1 – 4, 2015.
Additionally, AONN+ has named Emily Gentry, RN, BSN, OCN, Manager of Oncology at Sarah Cannon's North Texas division, to its Leadership Council. At Sarah Cannon, Gentry oversees the daily activities of 15 Sarah Cannon navigators across nine sites. Gentry has been a member of AONN+ since 2011 and helped to found its thriving North Texas Region chapter, which she has led for the past year. As a member of the AONN+ Leadership Council, Gentry will serve as the voice of the community navigator – helping to address the needs and challenges of professionals who work in community hospitals.
"This collaboration will lead us to the next level of integrating navigators into cancer centers as recognized and valued professionals and help to further inform those who will benefit from navigation," says Lillie Shockney, Program Director of AONN+. "Having Emily formally join our Leadership Council will advance our work to achieve the mission and vision of AONN+ locally, regionally, and nationally."
"I'm very excited to be a part of the AONN+ Leadership Council," says Gentry. "AONN+ has been instrumental in sharing best practices with fellow navigators to enhance support for patients, build programs dedicated to quality and excellence, and advance this profession. Both AONN+ and Sarah Cannon share the desire to build quality navigation and enhance patient care. These attributes are invaluable at the community level, where more than 80 percent of patients are treated."
About the Academy of Oncology Nurse & Patient Navigators® (http://www.aonnonline.org)
The Academy of Oncology Nurse & Patient Navigators, Inc. (AONN+) is the largest national specialty organization dedicated to improving patient care and quality of life by defining, enhancing, and promoting the role of oncology nurse and patient navigators. The organization, which has more than 5,000 members, was founded in 2009 to provide a network for all professionals involved and interested in patient navigation and survivorship care services in order to better manage the complexities of the cancer treatment process.
The Journal of Oncology Navigation & Survivorship® (http://www.jons-online.com) is the official publication of AONN+. It is published six times a year and features topics related to patient navigation and survivorship care. JONS offers original research, best practices, interviews, case reports and study highlights as well as a platform through which navigators can share research and views on navigation and survivorship issues.
CONQUER: The Patient Voice Magazine™ (http://www.conquer-magazine.com) is the Academy of Oncology Nurse & Patient Navigators' (AONN+) premier forum for patients with cancer. CONQUER features articles written by and for patients with cancer, survivors, nurse navigators, and other oncology team members. This magazine addresses the issues that patients, their family members, and caregivers face every day in an easy-to-read format. Issues include interviews with patients with cancer, information on access to care, and articles on lifestyle topics such as nutrition, stress management, personal finance, and legal and employer issues. CONQUER also features patient stories that are nominated for the AONN+ HERO OF HOPE™ award, which will be presented at the AONN+ Annual Conference. All stories are compiled in a special issue of CONQUER at the end of the year.
About Sarah Cannon
Sarah Cannon, the global cancer enterprise of Hospital Corporation of America (HCA), offers integrated cancer services with convenient access to cutting-edge therapies for those facing cancer in communities across the United States and United Kingdom. Sarah Cannon's cancer programs address every aspect of cancer care from diagnosis through survivorship, including individualized patient navigation provided by oncology-trained nurses, more than 900 stem cell transplants performed annually throughout the Sarah Cannon Blood Cancer Network, as well as access to more than 500 clinical trials, and molecular profiling capabilities. Through its services, Sarah Cannon is providing state-of-the-art cancer care close to home for hundreds of thousands of patients, a number unmatched by any single cancer center. To learn more about Sarah Cannon, visit sarahcannon.com.