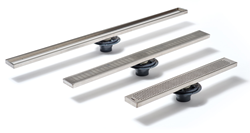 The linear head is set level, surrounded and supported by the sloped mud base. Floor tile is then installed per the usual methods.
Kansas City, Missouri (PRWEB) May 27, 2015
Rough plumbing manufacturer, Sioux Chief, announced a new line of linear shower drains for installation with tile floors. Linear shower drains are becoming increasingly popular for new and remodeled shower designs for ADA (Americans with Disabilities Act) compliant and barrier-free specifications; making a smooth transition from bathroom to shower floor.
The linear drains are available in six length options 26″, 30″, 36″, 40″, 48″ and 60″. The heads are made from stainless steel and slope toward the center outlet.
Three strainer styles are available: the economical square-hole pattern, the contemporary wedge-wire design and the popular tile insert model. The tile insert model supports a piece of shower floor tile, which sets into the tray to provide an attractive, seamless look to the shower floor.
The linear drain heads connect to Sioux Chief's 821 Series base/collar with a threaded adapter, which provides height adjustment. All models include the DoubleDuty™ test plug, which enables contractors to perform DWV and flood tests on the drain easily.
"The smooth O.D. head outlet slides into the adjustment adapter and does not require sealant," said Vice President of Sales and Marketing, Rex Baer. "The linear head is set level, surrounded and supported by the sloped mud base. Floor tile is then installed per the usual methods."