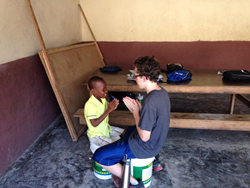 "Obtaining clean water can be a huge challenge in Haiti and the work Adam is doing will be a huge blessing to many people in this community." - Joey Jenkins, Executive Director of Ncompass
Portland, OR (PRWEB) May 20, 2015
Adam recently went to Haiti on a missions trip with Life Christian School and partnering with the international nonprofit Ncompass. While Adam was in country he saw the desperate need for clean water for the children in the orphanage he was serving in as well as the need in the surrounding villages. Adam decided he wanted to do something about this problem and has taken on the challenge of partnering with Kidstarter in order to raise the funds necessary to provide 40 water filtration systems throughout the country. Adam's project launched on May 15th and will end on June 15th.
The Kidstarter program was launched in March of 2013 as a pilot program of its parent organization Ncompass. Ncompass has been serving those in need since 2006 and was looking for a new program that fully positioned its people to utilize their strengths and passions to their fullest. Kidstarter was the solution!
Kidstarter is a collaboration based organization hoping to bring together many for profit and nonprofit organizations to drive impactful change globally. They are planning to partner with organizations and schools who can provide one of two things; either project opportunities which kids can raise funds and support for, or partners who can drive the right kids to the program as participants.
Through this program kids have already raised over $40,000 for other those in need! The kids raising the funds have an opportunity to connect with people locally or globally by meeting their needs in important ways. The goal of the program is to give kids an opportunity to engage with important causes at an early age and start refining their skills while developing a desire to give back. The ideal project will end with the kid walking away empowered, confident and developed with new tools and skills to be successful in the future.
Adam is ready to launch his campaign and hoping for great success which will lead to lives changed and impacted over 3,000 miles away. In order to support this cause, visit Adam's campaign page here.