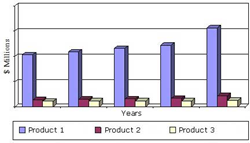 Global sales of blood products is expected to reach $38.3 billion in 2019.
Wellesley, Mass. (PRWEB) May 15, 2015
BCC Research reveals in its new report on the blood products market that new advances, particularly in the area of automation, have enhanced both safety and blood availability. Industry efforts currently are focused on increasing the blood supply in world markets and improving education efforts for a safe and sufficient blood supply worldwide.
The global blood market, which includes products used for collecting, processing and transfusion of blood and the sale of blood therapeutics, was valued at $30.1 billion in 2014. By 2019, these products are forecast to reach $38.2 billion in sales, reflecting a five-year compound annual growth rate (CAGR) of 4.9%. The largest segment of the market, blood therapeutics, will reach sales of $31.1 billion and a CAGR of 5.1% in 2019. Blood typing and screening products, the second-largest and fastest growing segment, is forecast to reach $3.4 billion in sales and a 5.4% CAGR.
Automation, successfully implemented in blood banking laboratories, has sparked growth in the market. Indeed, many manufacturers have introduced several next-generation products to replace first-, second- and even third-generation systems. The newer systems, which are completely automated, can process many more test samples per hour. For example, automation has accelerated the donation process. Traditionally, donors donate a single unit of red blood cells using manual procedures. But new technology makes possible the collection of two units of red cells from a single donation using a process called double red cell apheresis. Blood typing and disease screening has also benefited from automated instruments.
In addition to automation, other key market influences include collection and processing costs, technological advances, an aging population, growing demand for plasma-derived therapeutics, and the changes in the incidence of diseases and surgical procedures and catastrophes requiring blood transfusions.
Recent developments in safety testing and quality assurance of blood and plasma also have affected the market. These critical developments include incorporation of genetic engineering techniques to make recombinant clotting factors and human serum albumin; new methods of processing blood; and the discovery of other specialized blood cells such as stem cells and dendritic cells.
Other market influences include viral inactivation methods that will further improve blood safety. "These advances are few in number but are seen as being critical to improving blood safety," says BCC Research analyst Melissa Elder. "There is considerable research on finding yet other ways to inactivate viruses and other pathogens in as cheap, quick and effective a way as possible. The ideal in some cases will be the development of new methods for isolating and eliminating infectious DNA and RNA from viruses and other pathogens."
The Global Blood Industry examines the major aspects of blood and plasma collection/transfusion, including autologous donations, apheresis, fractionation, blood salvage and stem cells. Analysis of market value forecast is provided through 2019.
Editors and reporters who wish to speak with the analyst should contact Steven Cumming at steven.cumming(at)bccresearch(dot)com.
About BCC Research
BCC Research publishes market research reports that make organizations worldwide more profitable with intelligence that drives smart business decisions. These reports cover today's major industrial and technology sectors, including emerging markets. For more than 40 years we've helped customers identify new market opportunities with accurate and reliable data and insight, including market sizing, forecasting, industry overviews, and identification of significant trends and key market participants. We partner with analysts who are experts in specific areas of industry and technology, providing unbiased measurements and assessments of global markets. Recently selected as the world's greatest market research company, BCC Research is a unit of Eli Global, LLC. Visit our website at http://www.bccresearch.com. Contact us: (+1) 781-489-7301 (U.S. Eastern Time), or email information(at)bccresearch(dot)com.