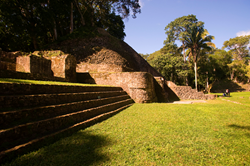 Many of our guests are surprised at what a rich Maya heritage Belize has, and how many ancient temples, cities, ceremonial caves and archaeological sites exist here
San Ignacio, Belize (PRWEB) May 17, 2015
The current May 2015 tour of Maya artefacts throughout the United States has created a surge in interest in an often-overlooked area of Belize's burgeoning tourism industry, according to The Lodge at Chaa Creek.
Roberto Harrison, Chaa Creek's marketing administrator, said that the interest generated by the May 2015 Tour has translated into greater interest in the many ancient temples, cities, sacred caves and other remnants of the once vibrant Maya civilisation in Belize.
A convoy of nine eighteen-wheeler trucks carrying over 250 of Belize's most prized Maya artefacts left Boston, Massachusetts on May 13 2015 for a three day journey to the next exhibition in San Diego, and Mr Harrison said the coast to coast exposure is a boon for Belize's growing tourism industry.
"Our tourism industry is a relative newcomer on the block, having only really began developing after independence in 1981. Since then it has always depended heavily on word of mouth, and exposure such as this is invaluable," Mr Harrison explained.
Chaa Creek, which also began life in 1981, is located in Belize's Maya heartland and has a long history of promoting Maya culture though tours and onsite exhibitions. The eco resort's 365-acre private nature reserve contains over 70 registered ancient Maya archaeological sites, including the ancient temple of Tunichilen, he said.
"Many people associate Belize with having the world's second largest barrier reef and pristine Caribbean waters offering excellent diving, sailing and fishing. However, long before tourism took off, Chaa Creek was hosting archaeologists, scientists and other researchers who looked at Belize as a rich treasure trove of ancient Maya artefacts," Mr Harrison said.
"When owners Mick and Lucy Fleming established the Belize Natural History Centre onsite, it was intended as a resource for researchers, Belizean students and visitors with an interest in Belize's natural and cultural history, and as a way to exhibit artefacts found on the property.
"It's since grown to be one of our most popular attractions," he said.
Chaa Creek is located between two major ancient Maya cities; Caracol, in Belize's Mountain Pine Ridge, and Tikal, in neighbouring Guatemala, and was once an important agricultural and trade centre. The popular eco resort is sprawled along the Macal River, which, after joining the Mopan River flowing from Guatemala, provided access to trade routes up and down the Caribbean coast, Mr Harrison said.
"Many of our guests were surprised at what a rich Maya heritage Belize has, and how many ancient temples, cities, ceremonial caves and archaeological sites exist here. But more and more, people are arriving specifically to tour those sites and experience that aspect of Belize.
"It's been great to see, as it's something we've always been proud to be able to offer. Now, perhaps in part due to the interest generated by the current exhibitions of Belize's Maya past across the US, we're seeing a rise in the number of enquiries about our onsite Maya attractions and tours," Mr Harrison said.
He added that Chaa Creek offers specific Maya all-inclusive Belize vacation packages that cater to interests in Maya culture ranging from introductory through to professional and academic, and that Chaa Creek's naturalist guides are trained in Maya history and culture.
"It's a rich, fascinating and mysterious ancient culture. The Maya were one of the most advanced societies of the ancient world, and had some of the most astute mathematicians, astronomers, artists and scientists of the time. They were some of the first people to have a written language, make paper, discover the concept of zero, chart the course of celestial bodies and conduct brain surgery.
"And the beauty is that people can experience the wonders of this enigmatic civilisation today. Ancient Caracol supported a population larger than present day Belize, and its main pyramid is still the largest manmade structure in Belize. Nearby Xunantunich has beautiful frescos and well preserved ball courts, and one can still recline on the ancient stone beds in the royal residence of Cahal Pech near San Ignacio town.
"Chaa Creek's restaurant serves produce grown in a traditional Maya organic garden using farming methods largely unchanged for thousands of years, and cacao, which was first grown by the Maya, can still be consumed in a hot chocolate drink just as the ancients enjoyed it. Tortillas, tamales and other meals also have pedigrees going back for thousands of years.
"It's wonderful that Belize's Maya exhibition is capturing the interest of so many people across the US. We hope the next step for many will be that they'll decide to come down here to become truly immersed in the history and culture of Belize's ancient Maya civilisation."
"It's a fantastic and rewarding journey of discovery," Mr Harrison added.
The Lodge at Chaa Creek is a multi award winning eco resort set within a 365-acre private nature reserve along the banks of the Macal River in Belize.
ENDS