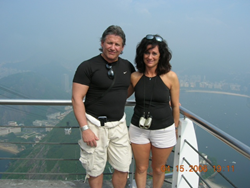 Vitamin B12 and Lipo-B now available to Diet Doc clients to balance the system and keep the body operating at optimal capacity during dieting.
Los Angeles, CA (PRWEB) May 18, 2015
Diet Doc now makes it possible for their patients to take advantage of all of the powerful positive benefits that Lipo-B and Vitamin B12 have to offer. And, while it is not proven that Lipo-B and Vitamin B12 actually cause weight loss, it is known that they do work in unison to metabolize fats and protect the liver, as well as providing a multitude of other positive health benefits, including:

Increased energy levels;
Improved mood;
Improved mental acuity;
Management and control of cholesterol and gallstone formation;
Healthier skin tone, hair growth and stronger nails;
Assists the body in transforming carbohydrates into energy.
While Lipo-B and Vitamin B12 are best known for their powerful energy boosting affects, they actually contain a perfect blend of amino acids, referred to as lipotropics, which catalyze the breakdown of fat and play a key role in healthy liver maintenance, as well as burning fat for energy. Without these lipotropics, excess fat and bile can become trapped in the liver.
Vitamin B12 is widely prescribed by physicians for numerous disorders and conditions, including memory loss, Alzheimer's disease, depression, fatigue, male infertility, diabetes, sleep disorders and osteoporosis. Found primarily in fish and dairy products, this vitamin is required for the proper function and development of the brain, nerves and blood cells.
New Diet Doc patients spend time with one of their specially trained in-house doctors via private online consultations which enables the doctor to get a clear perception of the patient's medical history and conditions, activity level and lifestyle, past failed weight loss attempts and weight loss goals. They review the entire system to uncover cellular toxicity, sluggish organs, hormonal imbalances or vitamin deficiencies that may be causing weight gain or preventing fast weight loss. Based on the doctor's assessment, diet plans are customized to be compatible with each patient's unique needs. And, while all patients are eligible for meal and snack plans that are tailored to their individual needs, many will qualify to enhance the rate at which they see fat melting from the most difficult areas of the body by enhancing their diet plans with specially formulated, pure prescription hormone diet treatments, appetite suppressants, powerful fat burners, as well as their impressive collection of vitamin and mineral supplements that are essential to fast, safe and healthy weight loss.
Diet Doc monitors each patient's progress throughout their weight loss journey via scheduled weekly checkup calls and makes their team available on an unlimited basis via phone or email to answer questions, address concerns, offer suggestions or simply to lend their professional support and encouragement. This level of personal service and support has made Diet Doc a leader in the weight loss industry and they urge those of all shapes, sizes, ages and genders to call or visit http://www.dietdoc.com today.
About the Company:
Diet Doc Weight Loss is the nation's leader in medical, weight loss offering a full line of prescription medication, doctor, nurse and nutritional coaching support. For over a decade, Diet Doc has produced a sophisticated, doctor designed weight loss program that addresses each individual specific health need to promote fast, safe and long term weight loss.
Diet Doc Contact Information:
Providing care across the USA
Headquarters:
San Diego, CA
(888) 934-4451
Info(at)DietDoc(dot)info
http://www.dietdoc.com
Twitter: https://twitter.com/DietDocMedical
Facebook: DietDocMedicalWeightLoss
Linkedin: https://www.linkedin.com/company/diet-doc-weight-loss?trk=biz-brand-tree-co-logo