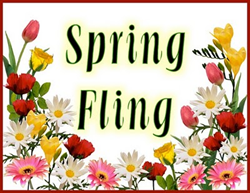 You know the saying April showers brings May flowers? Well May flowers brings 3% OFF all orders all weekend long.
Elmsford, NY (PRWEB) May 15, 2015
Beginning May 15th New York-based Eye Care Associates which enters its 16th year as the operator of CLEContactLenses.com, an authorized online e-tailer that sells contact lenses, contact lens solution, contact lens inserter/remover and other items related to eye care is having a Spring Fling weekend sales event in which they are offering all visitors 3% off all orders.
During CLEContactLenses.com Spring Fling event, no product is limited or withheld from the sale so all one needs to do to take advantage of this offer, is head over to clecontactlenses.com and select any item enter the following coupon code during checkout: 184753992 to receive an additional 3% off.
The Spring Fling sale is a great way to enjoy an additional 3% off due to the fact that the website already provides a complimentary membership rewards program to all of their registered users. Once a new customer of CLEContactLenses.com, one automatically receives 3% off their initial purchase. Each purchase after the savings increases by 1%. Now combine this Spring Fling event with CLEContactLenses.com existing free membership rewards program, its a no brainier to see that new members can enjoy up to 6% off all orders along with complimentary ground shipping within the USA.
Don't wait to long to take advantage of this offer because the Spring Fling sales event ends on May 17th at 11:59PM EST.
CLEContactLenses.com is based out of Westchester County, NY and has offices in Manhattan and Mahwah NJ. CLEContactLenses.com has been in business online for the last 16 years selling contact lenses, contact lens removers, eye vitamins, contact solution and all things eye care related.