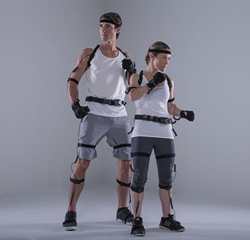 Perception Neuron is such a versatile tool and we want to be able to share its technology with as many professionals and organizations as possible, SVVR provides the perfect platform for that.
San Jose, California (PRWEB) May 15, 2015
Perception Neuron, the revolutionary tool that has finally made motion capture technology affordable and accessible to everyone, will be at SVVR 2015 in San Jose from May 18 & 19 at the San Jose Convention Center. This will mark the first appearance for Perception Neuron at the virtual reality industry event now in its second year. Dr. Tristan Dai, CTO and co-founder of Noitom will also be part of a special VR Input Panel taking place on the first day of the conference.
This year's SVVR—Silicon Valley Virtual Reality Conference & Expo—will also feature a series of workshops and talks and the expo floor will include an estimated 100 exhibitors in what is the largest expo floor in the VR industry. Attendees of the conference include developers, content creators, entrepreneurs and investors who work to build the emerging VR industry.
"Virtual Reality is an industry that continues to grow and generate new ideas and concepts," explains Dr. Dai. "The VR community is constantly seeking ways in which to expand the ability to interact in this new universe and Perception Neuron offers the only tool designed specifically for that purpose. Being part of this event, this community and Silicon Valley — the heart and soul of VR — is truly rewarding not only for me, but for all my colleagues and staff that have worked so hard on this project."
On Monday, Dr. Dai will join the VR Input Panel which will include illustrious VR industry leaders Dr. Richard Marks, Playstation R&D Senior Director and Danny Woodall, Creative Director of Sixense. The panel will be moderated by Dr. Jason Jerald of NextGen Interactions. The trio will discuss and entertain questions from the audience regarding the current and future trends in input devices and their long-term value as means of interactivity in the virtual world.
"In a matter of a few years we have given virtual reality sight with massive advances in head mounted displays," explains Dr. Dai. "Within the next year, we will have the first viable consumer HMDs. Perception Neuron aims to offer self-awareness to the VR world. This is still a developer's tool, but like the first Oculus Rift, it will only take a short time before a viable consumer product can be created that serves the purpose of adding another dimension to the immersion experience. We are so proud to be pioneers in this field."
Since their major launch last year on Kickstarter, Perception Neuron has gained fans throughout the world and especially in the virtual reality industry. The immersive motion capture technology can be used in a variety of applications that go well beyond gaming and comes at an affordable price.
"SVVR is a fantastic opportunity to connect with the core virtual reality community," says Roch Nakajima, Americas/Europe Marketing Director at Noitom. "Perception Neuron is such a versatile tool and we want to be able to share its technology with as many professionals and organizations as possible, SVVR provides the perfect platform for that."
Perception Neuron will be at the SVVR expo floor, from 11am-6pm on Monday, May 18th and from 11am-3pm on Tuesday, May 19th at the San Jose Convention Center. The VR Input Panel featuring Dr. Tristan Dai of Noitom will be on Monday May 18th at 3 pm. For further information about SVVR, visit http://www.vrexpo.com
Founded in 2011, Noitom Ltd. works with a team of dedicated engineers who develop world-class motion capture technology for consumer and industrial markets through the integration of MEMS sensors, pattern recognition, human kinetics and wireless transmission. Noitom is an international leader in innovative technology for use in animation, film, medical applications, robotics and gaming. Noitom is headquartered in Beijing with affiliate offices in Shenzhen. For further information about Noitom and its services, please visit, http://www.noitom.com. For general inquiries, please email, info(at)noitom(dot)com.