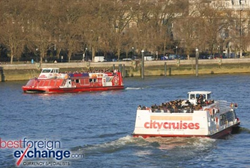 Add a quotablMany of London's tourist attractions are located close to Thames River, making water transportation all the more convenient of an option to visitorse
London, UK (PRWEB UK) 26 May 2015
Thames Clipper, the fastest river fleet with the most frequent departure times on the Thames River in London, just released record breaking numbers for passengers serviced in 2014, with over 500,000 additional people transported in comparison to the year prior. Foreign exchange specialists Thomas Exchange Global has strategically opened three new branches close to main ports in response to the growing demand in water transportation.
With London being the most visited city in the world, the Clipper provides tourists with a unique means to travel to London's main attractions, with a waterfront view of the cityscape along the route. The 3.8 million passengers serviced by Thames Clipper in 2014 is greater than any other year that the river fleet has been running–with over 15 years of being in business. In comparison to 2013, that comes out to over 15% more passengers serviced last year.
In response to the increase in passengers using Clipper's service, Thomas Exchange Global has opened new branches near several main pier points to offer people convenient access to the best travel money rates London has to offer. A leading foreign currency exchange service provider, Thomas Exchange Global now has branch locations in Canary Wharf, Embankment, and Richmond, all within close proximity to key piers along Clipper's route.
"Many of London's tourist attractions are located close to Thames River, making water transportation all the more convenient of an option to visitors," stated Trevor Samuel, Senior Manager at Thomas Exchange Global Ltd. "Moreover, Clipper offers tourists a better view of the city while traveling from one destination to the next. We are geared to provide the best travel money services to Londoners as well as visitors by strategically locating all three of our new branches close to the piers at Canary Wharf, Embankment and Richmond."
Thomas Exchange Global offers a very transparent pricing policy by displaying live buying and selling exchange rates at all of their branch locations to show which is most competitive. They are the largest foreign bank note dealer in London, exchanging over 120 different types of currency with no charge to users for buying and selling the travel money.
"Banks and prepaid travel card services levy various international charges that often travellers are unaware of at the time of transaction. It is our policy to provide the best deals and most accurate information to our travellers so they are always aware of how much they are spending," concluded Samuel.
For more information about Thomas Global Exchange, please visit http://www.thomasexchangeglobal.co.uk.
About Thomas Exchange Global
As dedicated foreign exchange specialists, Thomas Exchange Global has the professional expertise, in depth market knowledge, technological infrastructure and commitment to provide an unprecedented level of service that sets the standard in the foreign exchange industry. They are specialists in all areas of foreign exchange. They provide commission free currency as well as travellers cheques.
Thomas Exchange Global also offers International Money Transfer Service where funds can be remitted to overseas bank accounts within 1 to 2 days. With commission free service for transfers over £10,000 backed by competitive exchange rates, customers are assured of a better deal and a substantial saving compared to banks and money brokers. Thomas Exchange Global branches are located at Strand, Victoria Street, Liverpool Street, Hammersmith, Cannon Street, Wormwood Street Richmond and Embankment
.
For further details visit http://www.thomasexchangeglobal.co.uk or call 020 7240 1214.