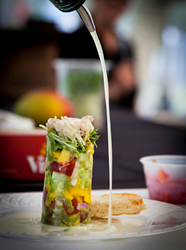 Temecula, CA (PRWEB) May 15, 2015
Known for a fantastic visual backdrop of romantic hot air balloons hovering over Southern California Wine Country, the Temecula Valley Balloon & Wine Festival offers something for nearly every taste May 29-31.
Consider first the 18 wineries participating in Wine Tasting at the Festival. Many of the wineries are new to the Festival. Newcomers include Beach House, Coyote Creek, Emerald Creek and Mahogany Mountain Wineries. Returning wineries include Briar Rose, Canyon Crest, Casa Tiene Vista Vineyard, Curry Vineyards, Europa Village, Frangiapani Estate, Lorenzi Estate, Lorimar, Maurice Car'rie, Monte de Oro, Thornton, Van Roekel, Wiens Family Cellars, and Wilson Creek Winery & Vineyards. Wineries represented at this year's Festival hail from all over Southern California Wine Country including the Temecula Valley, Warner Springs, Fallbrook, and Escondido.
Wine tasting at the Festival is $20 for eight tastes of wine and a souvenir glass; reserve tasting: $30 includes eight tastes of winemaker's award-winning reserve wines plus a large specialty glass. Guests can also buy wine by the glass for $8. Wine tasting hours are: Friday 3-8 p.m., Saturday 12 noon to 8 p.m., and Sunday 12 noon to 4 p.m. Festival wine pouring hours are: Friday 3-9 p.m., Saturday 10 a.m. to 9 p.m., and Sunday 10 a.m. to 4 p.m.
Guests can elevate the tasting experience by participating in either the Food and Wine Pairing or Beer and Food Pairing events where executive chefs prepare four course meals specifically paired with Temecula Valley premium wines or craft beers.
It is the most exclusive dining experience at the Temecula Valley Balloon & Wine Festival and a bit like a private invitation to Emeril Live as a taster. There are three food and wine pairing seatings: Saturday, May 30, 11 a.m. to 2 p.m., and 3 p.m. to 6 p.m., plus Sunday, May 31, 12 noon to 3 p.m. Beer and Food Pairing is Saturday only 11 a.m. to 2 p.m. and 3 p.m. to 6 p.m.
Not a wine fan? The Festival has brought craft beers and microbrews for guests who prefer ales and hops. Microbrew tasting is $4 for a four ounce pour or $8 for a 12 ounce pour. Craft beers will be represented from the Anheuser Busch family of beers including Shock Top, Goose Island and Stella Artois.
Food and Beer pairing is offered on Saturday, with an 11 a.m. to 2 p.m. and 3 p.m. to 6 p.m. seating. Here guests enjoy the culinary treats prepared by the American Culinary Arts Federation Riverside Chapter chefs paired with craft beers such as Stella Artois and Goose Island. This year's menu items include New Orleans Barbecue Shrimp with Spaten Beer, Watermelon Goat Cheese Salad made with Banyuls, Franziskaner Braised Cabbage and Brats with Franziskaner Weiissbeir, and Blueberry Beer Cheesecake made with Goose Island Matilda Beer.
Rock, Classic Rock, Country, Jazz and World Fusion, Alternative and Pop music will be performed live on two separate stages at the Festival. Sponsored by Pechanga Resort & Casino, the main stage offers Country Friday, with Gloriana, Love and Theft, and Chase Bryant and a Country Sunday with Chris Young and Cam in concert. Saturday Rocks Wine Country with Daughtry, Plain White T's and John Waite in Concert.
Generally regional bands perform on the Wine Country Stage but the 2015 Saturday lineup includes world renowned Tizer immediately following the evening balloon glow. Fusing jazz, rock, classical, Afro Cuban and world rhythms, Tizer produces a dynamic sound with band members keyboardist/composer Lao Tizer, violinist Karen Briggs and guitarist Chiele Minucci. Briggs is known as "that lady in red" for her fiery performances in the "Live at the Acropolis" Yanni PBS special.
It is the visual spectacle, however, that gets hearts pumping. Swaths of fabric on the lawns of the Festival gradually inflate into graceful hot air balloons that take photographers and lovers into the heavens above the Festival. Many proposals have been made in a Temecula Valley Wine Country Balloon. The spectacular dawn mass ascension begins at 6 a.m. Saturday and Sunday of the Festival. If you miss the launch, Friday and Saturday evening balloon glows have the colorful orbs tethered to the ground for close up views of their canopies and synchronized balloon light show. All balloon activities are weather permitting. Fog, wind and clouds can ground the exhibition.
The Temecula Valley Balloon & Wine Festival is held at Lake Skinner Recreation area in the heart of Temecula Valley Wine Country. Concerts and balloon glows are included in the Festival general admission. A Kids Faire, arts and crafts and commercial exhibits offer additional activities for guests. Wine tasting and food pairing events are additional. For Festival information visit http://www.tvbwf.com or call (951) 676-6713.