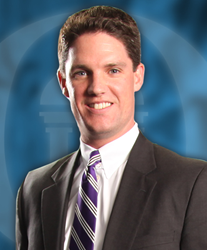 Kingston, PA (PRWEB) May 17, 2015
Michael O'Donnell of O'Donnell Law Offices in Kingston has been certified as a specialist in the practice of workers' compensation law by the Pennsylvania Bar Association Workers' Compensation Law Section.
O'Donnell successfully completed the 2015 certification process by submitting a variety of documents showing that at least 50 percent of his legal practice is in the specialty field of workers' compensation, that he has practiced in the field for more than five years, and that he actively participates in Mandatory Continuing Legal Education in workers' compensation law and related fields. O'Donnell also passed the certification examination that focuses on workers' compensation law and rules and leading case law.
In 2012, the Pennsylvania Supreme Court approved the PBA Workers' Compensation Law Section as the first bar association entity in Pennsylvania to certify lawyers in the area of workers' compensation law. Certification was granted to 149 lawyers who took the exam earlier in this year.
Because of his successful completion of the certification process, O'Donnell will be permitted to use the following language when communicating about his certification to clients and to the public: "Certified as a specialist in the practice of workers' compensation law by the Pennsylvania Bar Association's Section on Workers' Compensation Law as authorized by the Pennsylvania Supreme Court."
Founded in 1895, the Pennsylvania Bar Association strives to promote justice, professional excellence and respect for the law; improve public understanding of the legal system; facilitate access to legal services; and serve the 27,000 lawyers who are members of the association.
About O'Donnell Law Offices
O'Donnell Law Offices is a Northeastern Pennsylvania personal injury law firm which has successfully represented all types of personal injury claims, ranging from auto and trucking accidents to product liability claims, to medical malpractice and wrongful death claims. The firm is located in Kingston, Pennsylvania, and its superb team of attorneys provides top quality legal representation and unparalleled service to its clients and the community. O'Donnell Law has been representing clients for more than two decades, and in that time has received numerous awards and recognitions. Visit http://www.odonnell-law.com or call 570.821.5717 for more information on the firm.
###