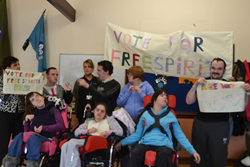 "Freespirits are an inspirational charity who does great things in our local area and we are proud to be a supporter. Getting the building completed would be monumental in the lives of everyone associated with the charity."
(PRWEB UK) 18 May 2015
Autonet Insurance have entered local charity, Freespirits, from Stoke-on-Trent into the Aviva Community Fund for a chance for them to win £10,000 to fund much needed renovations for their day centre.
The Aviva Community Fund is a competition run by the Insurance Company who offer the chance to get funding for a project which will make a difference in the local community. The projects with the most votes by 31st May 2015 will go through to the final to be judged by an impartial panel and two successful entries will win - £10,000 each.
Freespirits are a charity who cares for young adults with special needs, they run a day centre where they organise various activities such as crafts and baking as well taking its members on day trips; providing much needed support for members and their families. They are the only charity of this kind in Stoke-on-Trent providing crucial support for the local community. Autonet have recognised the valiant services that Freespirits provide and are passionate about supporting this cause and urges others to do the same.
Freespirits are hugely underfunded and need this money desperately as their day centre cannot be used until the renovation is complete; currently they borrow a scout hut which is unsuitable for their needs. Facilities are small; the office is forced to double as a changing room, there is only one single disabled toilet; which is hugely problematic being used by 10 young adults, with only one room available for activities. The present arrangements are far from ideal for the Freespirits members, and are difficult for care workers to manage.
If Freespirits win the £10,000 they will be able to finish the renovation of their day centre and move into their new premises. The renovation will include a changing room with full equipment including hoist facilities, four new disabled toilets as well a sensory room with full sensory equipment for therapy.
This project is driven by a real need to provide a suitable building and equipment for the young adults and the funding will ensure the likelihood of its success and long term sustainability. Once the move is complete Freespirits are aiming to double their client base within the first year, and within three years increase their client base again to over 30 young adults.
In order for Freespirits to win the funding they first need to get as many votes as they can before 31st May.
To vote, click this link https://community-fund.aviva.co.uk/voting/Project/View/2130 or visit Autonet Insurance's Facebook page where the link is also present. Then all you need to do is register on Aviva's website, confirm your email and cast your votes. It's as simple as that.
Ian Donaldson (Managing Director of Autonet) was asked why Autonet supported the project: "Freespirits are an inspirational charity who does great things in our local area and we are proud to be a supporter. Getting the building completed would be monumental in the lives of everyone associated with the charity."
If you have any questions please feel free to contact us at marketing(at)autonetinsurance(dot)co(dot)uk or ring myself, James Anderson, on 08444 933978 where I can happily provide any information you require.