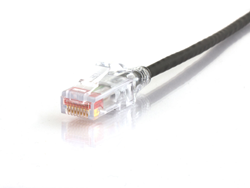 Quakertown, PA (PRWEB) May 19, 2015
Computer Cable Store, one of the leading online retailers of computer connectivity devices and cables, has recently expanded its product line to include Custom Built Mini CAT6 Patch Cables. These cables are available in seven colors, such as blue and black, as well as in lengths of up to 50 feet. Custom Mini Cat6 patch cables are a good choice for wiring server racks, computers, sound equipment and other electronic equipment. Says Jeramie Cavanaugh, "We're pleased to be able to add this exciting and useful product to our line of computer cables." He continued, "With the increasing number of custom server racks with high airflow requirements, these cables definitely fill a need."
The mini patch cables offered by Computer Cable Store are made with 250 MHz Cat 6 bulk cables, which uses four twisted strands of 28 AWG stranded tinned copper. The cables are terminated with short body RJ45 plugs that are plated with 50 micro inches of gold per contact. "These cables are made to efficiently handle bandwidth-intensive applications, and the smaller size allows for better air circulation," explains George McDowell.
Pennsylvania-based Computer Cable Store is a one stop resource for all types of computer cables and connectivity devices. The company offers a full line of fiber optic cable, audio cable, telephone cables and coaxial cables as well as cables for computer and audio components. They also offer accessories for computer and other electronic installations, such as wall mounts for flat screen television sets and network media converters.
Computer Cable Store offers same-day shipping on all in-stock U.S. orders placed before 3:00 p.m. Eastern time, using the best price available from UPS. U.S. customers are charged exact shipping fees with no sales tax outside of Pennsylvania and no handling fee. Because they are custom-built, these mini cables are not returnable.